From wonky fruit juice to beer brewed with surplus bread and gin infused by rescued grapes, food waste is inspiring a raft of new NPD. Not content with simply putting the scandalous levels of food surplus on the industry agenda or campaigning for change at the top, these socially aware entrepreneurs are rolling up their sleeves and putting premium, sustainable products on our supermarket shelves too. Proof if we still needed it that we aren't talking about 'waste' at all, but simply food
The best thing since …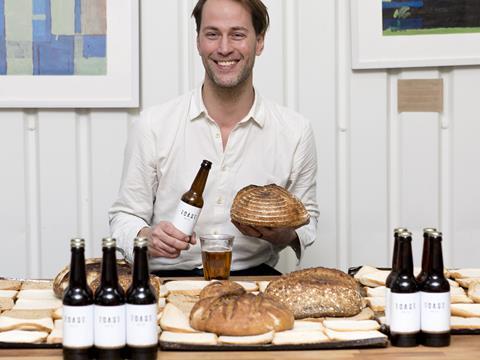 Toast Ale
Launched: 2016
Listings: Waitrose, Fortnum & Mason, Amathus and 20+ independent stores
Rsp: £2.50
Perhaps the only food and drink business unashamedly hoping "to put itself out of business", Toast Ale is the brainchild of Feedback founder and food waste campaigner Tristram Stuart. Inspired by the staggering 24 million slices of bread chucked out in the UK each year, the brand gathers surplus loaves from delis, bakeries and sandwich makers, mashes it into breadcrumbs and brews these with malted barley, hops and yeast, turning the surplus into bottles of premium pale ale. Using roughly one slice per bottle, the team of three recycled 3.6 tonnes of bread in its first 15 months.
In March 2017 the project took to Crowdfunder, raising nearly £28k (£8k more than its target) to boost capacity, with plans to save more than 100 tonnes of surplus slices within three years, and adding two new SKUs to its range – a session IPA and craft lager.
Already served to the Queen as she browses through Fortnum & Mason for her weekly grocery shop, Stuart and his team are now looking to take the range to the US with the first pilot batch rolled out in New York in March.
Higher purpose houmous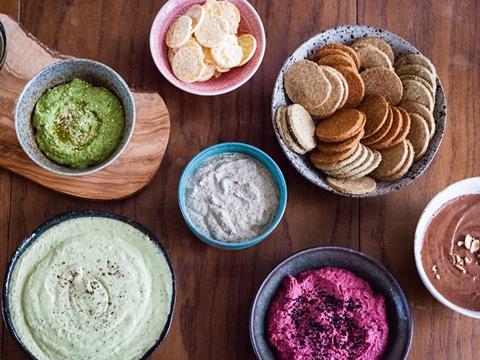 ChicP
Launched: 2015
Listings: Fortnum & Mason, Selfridges, Whole Foods Market, Sourced Market, Eat 17
Rsp: £2.50
A former private chef, Hannah McCollum quit the catering industry after witnessing first hand the huge amounts of waste in professional kitchens.
After experimenting with turning leftovers into houmous at home, the 26-year-old founded ChicP, which now sources wonky fruit and veg destined to rot on farms and turns them into raw houmous in four varieties (carrot, ginger & turmeric; beetroot, horseradish & sage; banana, avocado & cacao; and 'herby'), sold at more than 17 UK stores and online.
Fifty per cent of each dip is made up of rejected raw fruit and veg, mixed with soaked chickpeas, and tahini, and seasoned and blended with rapeseed oil to create colourful 170g dips. And the entrepreneur is now targeting a listing in the major supermarkets with a successful Tesco BackIt campaign in January raising £5,000 and allowing her to invest in marketing, logistics, shelf life tests and a second member of the team.
Squeezing out every drop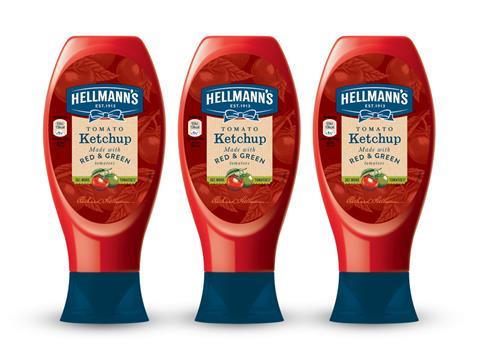 Hellmann's Ketchup (with red and green tomatoes)
Launched: 2017
Listings: All major supermarkets
Rsp: £1.89
Tackling the plight of imperfectly red tomatoes that are too often left to rot in the ground (around 10% of the crop), Hellmann's new ketchup doesn't discriminate on colour.
By using both red and often discarded green tomatoes in its new waste-conscious condiment, brand owner Unilever believes the sauce could rescue a whopping 161 tonnes, or 2.5 million tomatoes every year, from going to waste on UK farms.
The launch signals a shift upstream for the manufacturer, which has worked extensively to convince its consumers to cut down on waste, and is now turning its attentions higher up the supply chain.
"Our latest innovation not only allows us to deliver a fantastic tasting product, it also enables us to contribute to our wider business ambition of halving the waste associated with our products," says Francesca Howarth, brand manager for Hellmann's.
"We hope it inspires the wider industry to reassess how to maximise their crops, especially when it comes to the physical appearance of perfectly edible produce."
Leveraging its considerable fmcg might, the new sauce was rolled out to all major supermarkets from last month and will benefit from a healthy £9m marketing investment too as the global firm shouts about its sustainable credentials across television, out of home and point of sale.
Snacktivism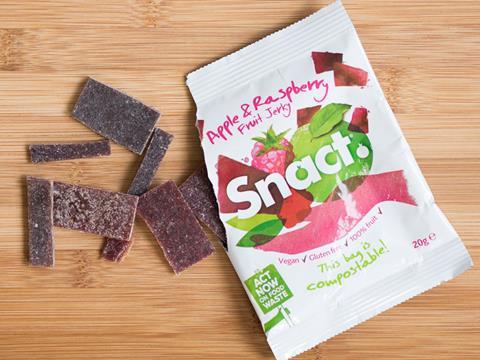 Snact
Launched: 2013
Listings: Ocado, Planet Organic, Selfridges, and Sourced Market
Rsp: 90p
Back in 2013 childhood friends Ilana Taub and Michael Midge-Dixon sat down and began brainstorming ideas for a sustainable food business. Settling on food waste, the pair began visiting wholesale markets in London, buying up excess fruit at the end of trading. Chopping, blending and mashing, they created chewy dried snack bars at a rented kitchen in Hackney, overseeing each stage of production themselves.
Then, in 2014, a crowdfunding campaign raising £15k from 250 backers allowed the duo to expand, outsourcing manufacturing and adopting a new pack that extended shelf life. In 2016 it took this one step further, launching a new home compostable packaging format before announcing major new listings in Planet Organic and Selfridges in February. Now the team are "working on really new exciting products" to add to its three-strong range, expected to launch in the next couple of months and "tackling more food waste with delicious healthy snacks" adds co-founder Taub.
Turning surplus into sweet snacks
Spare Fruit
Launched: 2016
Listings: Planet Organic, Selfridges, Natural Kitchen and online
Rsp: £1.25
Rescuing wasted fruit and turning it into premium crisps "was always going to be my destiny". That's the belief of Spare Fruit founder Ben Whitehead, who got his first job fruit picking "in the sleepy Suffolk countryside" before volunteering with redistribution charity FoodCycle from 2011. "I was also brought up in a single parent, foodie family where absolutely nothing was wasted and everyone worked to give back in some way."
"Obsessed with food and passionate about social change", Whitehead first began creating his air-dried fruit crisps from surplus collected at local cafés before scaling up and sourcing direct from farms. He now supplies high-end retailers Selfridges and Planet Organic with Apple Crisps and Pear Crisps.
Grown in abundance in the UK (around 600k tonnes per year), the young businessman purposively focuses on apples and pears as too often unpredictable growing conditions mean a huge number are currently wasted across UK farms.
To date the startup has saved more than 15 tonnes of apples and pears from the rubbish bin, with all profits going back into scaling up efforts and raising awareness on food waste.
Perfectly imperfect juice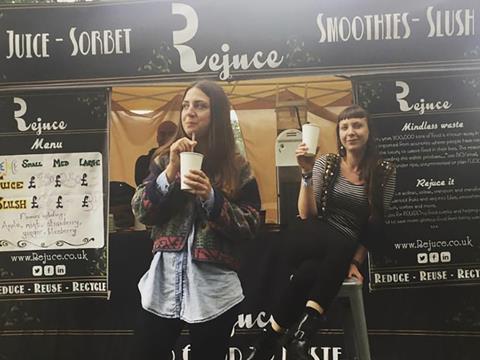 Rejuce
Launched: 2012
Listings: Local Hackney c-stores including Premier and Londis
Rsp: £1.50
Appealing to the public back in 2016, social enterprise Rejuce successfully raised more than £10k via crowdfuning to help scale up its surplus juice business.
Set up by former chef Tom Fletcher, who also delved into the huge levels of food wasted during his business degree, the brand uses only rejected fresh fruit and veg to make up its range, which include Lime, Cucumber, & Mint, and Lemon, Beetroot & Ginger. The first few bottles were hand-pressed in Fletcher's university kitchen before a move to its East London HQ.
Currently sold at small Hackney stores, including Premier and Londis, Fletcher and his team have also toured festivals to shift more surplus, but are now hoping to make the brand less seasonal.
They say the injection of funds will allow them to invest in machinery to quadruple their output and squeeze an extra 30% out of the surplus produce, which is sourced from both the UK and Europe.
Oh, and the biggest donor was invited up to shave off Fletcher's long locks too just to sweeten the deal.
Making a marc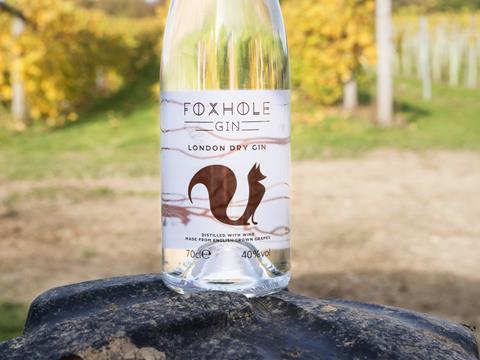 Foxhole Gin
Launched: 2016
Listings: Specialist spirit and wine shops in Sussex, and online
Rsp: £40.00
The wine industry has a dirty secret. A pulpy mass of skins, flesh and pips in fact, tonnes of which are left over after grapes are pressed and juiced for top end plonk, and chucked out by vineyards. This means that around a third of each harvest's juice can end up on the compost pile, "an inglorious fate for a resource so rare and valuable" say the creators of Foxhole Gin.
Launched only last month and based at Bolney Wine Estate in Sussex, their craft spirit gives the pulp another chance, with a second pressing to collect lost juice, which is then fermented and turned into English wine, used as a core ingredient in the gin.
All this takes its time too, with a single batch of the spirit taking a year to produce, compared with a swift 48 hours for some gins. "We have to factor in a full grape-growing season, harvest and first pressing for winemaking, before we can even start," say the brand. "Then we have to make our own English wine, which doesn't happen overnight either", with a variable grape vintage leaving the raw material a surprise every time.
Zero waste packaging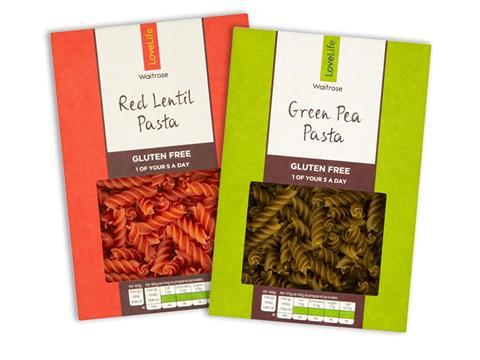 Waitrose pasta
Launched: 2016
Listings: Waitrose
Rsp: £1.99
Believe it or not, even peas and pulses don't always make the grade. But at least those rejected by Waitrose can now wind up as sustainable boxes for posh pasta rather than being buried in a rubbish bin somewhere.
Fifteen per cent of new eco-packaging for the supermarket's gluten-free fusilli pastas are made from these rejected proteins, reducing the use of trees by 15% in each box and lowering harmful greenhouse gas emissions by 20% in production, says the supermarket.
"We're always looking at ways to cut down on our packaging, use more sustainable materials and reduce our food waste, so we're pleased to be working towards all three of these targets with this new launch," says pasta buyer Jo Heywood.
Tackling food waste with relish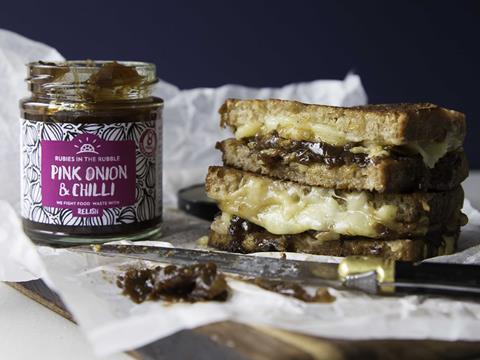 Rubies in the Rubble
Launched: 2011
Listings: Waitrose, Ocado, Harvey Nichols, Fortnum & Mason, and Cook
Rsp: £3.50-5.00
Armed with family recipes and a car boot brimming in surplus fruit and veg rescued from London food markets, Jenny Costa, née Dawson, first began experimenting with her line of condiments six years ago. Quitting a job with a hedge fund firm, the entrepreneur began sourcing ingredients from farmers left with dented, soft or misshapen produce rejected by the supermarkets, building up a range of seven core products, including London Piccalilli, spicy tomato relish and Top Banana ketchup, now stocked on some of the UK's most illustrious supermarket shelves.
As well as major listings with the likes of Waitrose, the brand also collaborates with Virgin Trains, collecting surplus apples from their trains and turning them into West Coast Apple Chutney served up in on-board sarnies.
To date the brand has rescued 600,000 tonnes of fruit and vegetables from the bin (more than 10 times Tesco's total annual wastage), and it continues to add to its range with a new Chipotle Ketchup launched in April using sundried tomatoes deemed too dark for supermarkets and restaurants. "Our high-quality products are tangible, market-based solutions to food waste," says Costa. "Meanwhile our marketing and story shine a light on the wider global issue of food sustainability, conveying our message to consume less, think more, and be proud of it."
Wonky water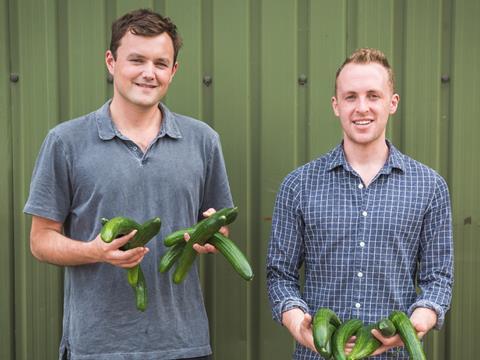 Dash water
Launched: 2017
Listings: Watch this space
Rsp: £1.29
Working together in the mainstream, soft drinks industry co-founders Alex Wright and Jack Scott "developed a daily ritual of concocting our own tasty infused waters", but couldn't spot anything that matched up in the marketplace.
Coupled with a shared farming background, in which they'd witnessed first hand the amount of produce that never made it to supermarket shelves, the pair set about creating the recipe for Dash Water, infused sparkling waters using rejected fruit and veg for flavour.
Liaising with food waste charity Feedback, the founders now source surplus lemons from Sicily and cucumbers from UK farms to go into their range of two sparkling waters, "artisanally crafted in the UK and mindfully sustainable", with their first major listings expected to be announced this month.