It was unanimous. Months after a grassroots campaign kicked off to fight the "scandalous and absurd" waste of food in French supermarkets, the country's Senate had given the plan its seal of approval without a whiff of protest.
As of July 2016, large supermarkets caught chucking away edible food or pouring bleach on leftovers to deter dumpster divers face hefty fines. Instead, they'll need to send surplus groceries to charities.

Part of the French plan to halve food waste by 2025, the law has been hailed a "world first" by delighted campaigners who say the move will create millions more meals for the needy.
"When it comes to squeezing the social goodness out of surplus food Britain is the poor man of Europe"

Lindsay Boswell, FareShare
And it wasn't the first time France found itself front and centre of the global debate on food waste. The country has regularly been labelled a pioneer ever since it established Europe's first food bank in 1984. So just how far behind is the UK when it comes to food redistribution? How does the French approach differ? And what can we learn from its example?

"When it comes to squeezing the social goodness out of surplus food Britain is the poor man of Europe," insists FareShare CEO Lindsay Boswell. He says 300,000 tonnes are currently redistributed by France's three networks of food banks, around six times more than the 47,000 tonnes that Wrap found redistributed in the UK in the landmark report it unveiled this week.

Subtract the 64% of that total that Boswell estimates is redistributed via commercial routes like Company Shop and the tonnage donated to charities in the UK would be just 6% of that managed in France.
How France forced supermarkets to act
It took four months, 200,000 signatures and one outspoken French councillor to push through France's radical new law on food waste in 2015.
But while the loi Macron, which forces supermarkets to stop binning surplus food, may have received a rare vote of unanimity in the French Senate, it was no easy task to get it passed, according to the municipal councillor behind the campaign, Arash Derambarsh.
"I have been insulted and attacked and accused of being naive and idealistic, but I became a local councillor because I wanted to help people," he says. "The only thing that matters is that the poor will be able to eat more easily."
Derambarsh kicked off the campaign after volunteering to collect unsold food from Carrefour in the Paris suburb of Courbevoie. Struck by the piles of supermarket food going to waste, he set up a petition (which now has 211,000 signatures) and joined forces with campaign groups to lobby the Senate for a bill that forced retailers to act.
Former food industry minister Guillaume Garot introduced the bill on the campaign's behalf and in December 2015 it was passed with full backing from the National Assembly, before gaining the approval of the Senate in January 2016.
As of July 2016, all large supermarkets in France (more than 4,305 sq ft) are prevented from binning edible food approaching its best-before date. Instead they must strike up agreements with registered food banks or other charities to divert this food for redistribution. And if they're caught ignoring the new law they face a fine of €3,750. To mobilise support, each local authority will also be required to advertise the contents of the new law, with the hope that it will prompt offers of help from the public to transport the groceries.
"This law, for which we fought for months, will enable more than 10 million people to eat," added Derambarsh. "Becoming the first country to legislate on the scandal of food waste France proves that the word 'brotherhood' still has meaning in our country."
"We can really see no reason or argument as to why two countries separated by 26 miles of water, with the same size population and the same cutting-edge food industry, shouldn't be redistributing the same amount," he adds.

But Wrap argues that if you dig deeper into the figures, this like-for-like comparison begins to fall apart. It says when France cites the amount of food redistributed it includes donations of food to charities that wouldn't necessarily have gone to waste, such as the cans of soup and loaves of bread collected in boxes at supermarket entrances here in the UK.

These donations account for as much as 37% of the tonnage redistributed, bringing France far closer to the UK. "When you do the numbers on a like-for-like basis, the difference between France and the UK isn't that big," explains Richard Swannell, the charity's director of sustainable food systems.

In fact, allowing for France's larger food industry would result in very similar levels of food redistribution to the UK if the same definitions were used, says the charity, with 500 tonnes per billion of production in the UK, and 480 tonnes per billion in France.

Boswell rejects this. He sees no "fundamental difference between what happens in France and what happens in the UK". But, if nothing else, this conflicting view goes to show that drawing comparisons between the UK and France based on the tonnes of food redistributed isn't helpful or straightforward, suggests Julian Parfitt, resource policy advisor and practice leader at global consultancy firm Anthesis.

Rather than "get hung up on the differences in tonnage" we should focus on the different policies that have been introduced across the Channel and see what the UK can learn, he suggests.

For example, should the UK adopt a law that requires supermarkets to send surplus food to charities or risk a fine?

The man behind the successful French campaign, councillor Arash Derambarsh, thinks all 28 EU member states should. "The next step is to ask the president, François Hollande, to put pressure on Jean-Claude Juncker and to extend this law to the whole of the EU," he said. "This battle is only just beginning."
"We can really see no reason or argument as to why two countries separated by 26 miles of water, with the same size population and the same cutting-edge food industry, shouldn't be redistributing the same amount"

Lindsay Boswell, FareShare
A petition calling for the Commission to consider his proposal has received 767,000 signatures. And here in the UK a groundswell of support for the French approach has led to 188,000 people signing a petition that asks the government to do the same.

Shadow environment secretary Kerry McCarthy even presented the plan to parliament via a private members' bill in September 2015, alongside a raft of proposals to tackle food waste. "The percentage of food redistributed is still very small compared to what's possible and legislation accelerates that process," says McCarthy. Whether there'd be fines similar to the French model "would have to be looked at" but she suggests "if you're a supermarket where FareShare or FoodCycle doesn't operate you wouldn't be fined for not having the agreement" in place.
See also: How to pledge your support for our campaign
But, appealing as it sounds, legislation isn't always a silver bullet. Even in France the radical move wasn't to everyone's taste, not least the French supermarkets frustrated at finding themselves singled out for supply chain waste.

Some charities went so far as to label the law a "poisoned chalice", leaving them with a surge in donations but no new infrastructure with which to handle them. As one worried charity boss said, "We cannot become rubbish dumps."

"You can't increase supply if you haven't organised the demand side," agrees Parfitt. "What benefit would there be of a vast mountain of material fit for human consumption when the charity sector is unable to cope? It'll end up as landfill or worse."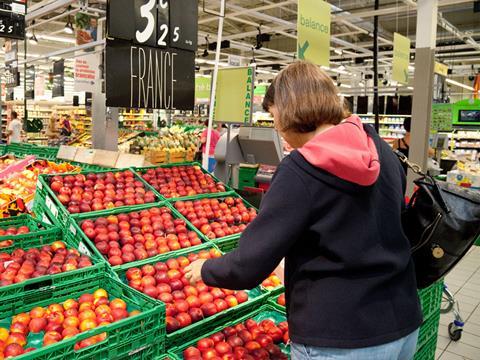 So redistribution networks need support from a series of extra policies to ensure they can cope with the new volumes of food, he says. Even in France "they'll need to make major changes to improve the infrastructure" and says the problem would be worse in the UK, because Britain is a decade behind France on setting up charities that redistribute groceries. The first French food bank was established 32 years ago. FareShare didn't emerge until a decade later.
See also: Sales of new Perfectly Imperfect fruit & veg 'flying' at Tesco
"Our experience with Courtauld is that it can drive faster progress as people innovate and set their own, more stretching targets and goals"

Liz Goodwin, Wrap
There are other practical concerns. For Boswell, adding to regulatory red tape for business is "quite rightly difficult to do", making it a time-consuming and costly option. "And how an earth do you enforce it anyway?" he adds. "How do you prove that three weeks ago what is a puddle of sludge now was once edible food?"

For that reason, FareShare favours voluntary commitments from retailers and manufacturers to redistribute surplus food, an approach that saw it deliver 8,500 tonnes of groceries to 2,300 charities and community groups in 2015 - the equivalent of 17.7 million meals.

"I don't think we should be going for legislation to get people to do the right thing," he explains. And "I haven't met a single person in the food industry that objects to any food they can't earn an income on being diverted to feed people in need."

Wrap agrees. "Our experience with Courtauld is that it can drive faster progress as people innovate and set their own, more stretching targets and goals," said CEO Liz Goodwin at a 2015 conference.

McCarthy is sceptical. She believes voluntary agreements often only attract the support of organisations "already doing the right thing" but she agrees UK lawmakers are reluctant to intervene by forcing companies to act. They see "the nudge approach, the voluntary approach as the way forward", she says.

Tax breaks

But if a UK law on supermarket surplus is a long way off, the government could still learn a lot from one of France's more established techniques for boosting redistribution - tax breaks for donating groceries.

When French retailers and manufacturers donate food surplus to charities, they receive a tax break of 60% on the donation, capped at 0.5% of annual turnover. One project led by Leclerc supermarkets in northern France worked out the cost of sending one tonne of fruit & veg to charity was reduced from €372 to €65 thanks to the tax break, making it €148 cheaper than sending the equivalent for anaerobic digestion (which cost €213). Without the incentive it would've been €159 cheaper to opt for AD.
"France's law, which bans landfilling and incentivises redistribution, has had a hugely positive impact"

Lindsay Boswell, FareShare
"That is a real game-changer," says Boswell, as it puts "a financial incentive in place that evens up the added cost of keeping food fit for human consumption and then supplying it to the voluntary sector, which requires transport, logistics, management and time. And there's no reason it shouldn't work over here."
See also: Tesco' Community Food Connection redistribution programme helping to reduce waste

British food and drink companies currently don't have that option and bear the full cost of redistributing to charity. Meanwhile, the government has introduced higher taxes if food is dumped in landfill and incentives to boost low carbon technologies such as AD (though these have been scaled back since 2015). The result is it's often cheaper for fmcg companies to send edible food surplus to one of the 167 AD plants in the UK.

Significantly, even AD providers agree that leaves the system skewed. "Wasting edible produce is ludicrous," says Philip Simpson, commercial director at bioenergy firm ReFood. "It doesn't make sense to send edible food - such as unsold produce, leftovers or 'wonky veg' - to AD" when there are "so many more effective strategies, such as price discounts, or using redistribution charities that put this resource to better use. France's law, which bans landfilling and incentivises redistribution, has had a hugely positive impact. Following suit makes absolute sense for the UK."

We agree. While AD should be prioritised over landfill, The Grocer is calling for government to follow the French example and introduce fiscal incentives on the redistribution of edible food. FareShare estimates it would cost from £3m to 5m a year to create this "transformational" level playing field.

To put it into perspective, that's less than a third of what the UK government splashed out on first-class rail travel from 2010 to 2014, and only twice its biennial bar bill in the Commons. And if putting a stop to the scandalous waste of food in the UK doesn't trump those, we can expect to trail behind France for many years to come.
This article is part of our major Waste Not Want Not campaign, which you can read more about here.