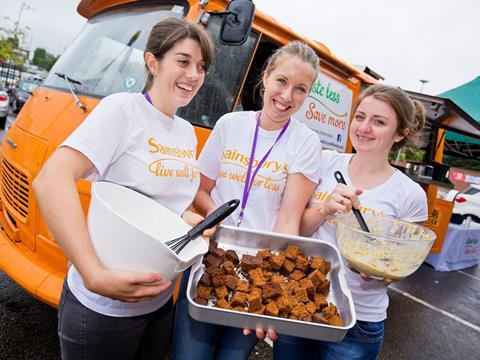 On a cold November morning Sainsbury's in Swadlincote is giving away free breakfasts. Serving up a concoction of bacon, eggs, tomatoes and herbs, the food van outside the store is, unsurprisingly, attracting quite a crowd. Some shoppers cautiously sidle up to the makeshift kitchen; others dive straight in for the grub.

But this isn't a simple free-for-all. This is the Waste Less, Save More van - affectionately known as 'Gina' - designed to spread the message of Sainsbury's five-year food waste campaign. Distributing recipes designed for leftovers, as well as simple tools such as fridge thermometers and portion measurers, the vintage Peugeot has been taking the message not just to supermarket shoppers, but also to schools and community events.

The Waste Less, Save More initiative landed in Swadlincote last December when the Derbyshire town beat 189 other communities to become the test site of Sainsbury's ambitious plan to tackle food waste. Over the past year the retailer has invested £1m in transforming the community of 33,000 into a "living test bed" for the project, which is estimated to have cost £10m and where residents have tried out everything from celebrity chef courses to innovative apps. But the initiatives haven't all been big budget. One of the simplest methods - giving out free fridge thermometers to ensure food is kept at the correct temperature - proved so effective Sainsbury's initiated a nationwide giveaway in September.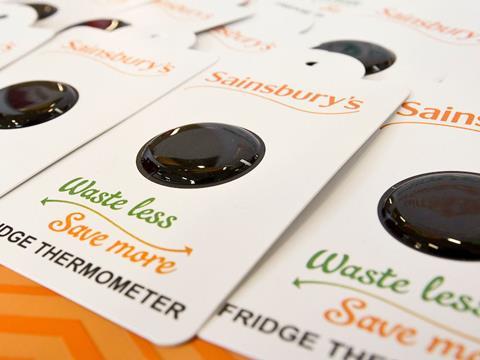 Ian Partridge, store manager of Sainsbury's Swadlincote, can confirm at first hand how small changes can yield big results. For the past few weeks, Sainsbury's Swadlincote has given out free samples of banana bread made using bananas past their prime. The store is now selling 200 loaves a week at £1 each, and other stores have started replicating the initiative. It's proof that tackling food waste doesn't necessarily require a lot of resources.

Partridge says more than money "it's about everyone getting engaged. One of our food waste champions came in on her holiday this week to get involved, they really are that engaged."

Of course, Sainsbury's wants to eliminate its own food waste, though this was already minimal, says Partridge, but the supermarket wants to ensure all food that can be eaten is eaten. So the store has a food waste meeting at 11am every day that charities can come along to, and decide what to take. This work will hopefully to dispel "this myth that we have lots of food waste", he says. But perhaps the most crucial aim is to reduce the amount thrown away in households, which account for 70% of all food waste, according to Wrap estimates.

One project aiming to attack the problem from both sides is Swadlincote's community fridge. Sainsbury's donates its fresh produce to the fridge - located just a five-minute walk away, at the town's South Derbyshire Community Volunteer Service - to be picked up by local organisations and residents. The eventual aim is for residents to be able to both donate and receive food.

The fridge looks impressive; it is spotlessly clean and the quality of the food (which is plentiful) is rigorously maintained. So far, project manager Eileen Banton has seen the response she was hoping for. "I felt people would be queuing up just to supplement their shopping and I didn't want that, I wanted the food to go to people who needed it," she says. But she's been "pleasantly surprised" with feedback from people that say the scheme 'is really helping me'. And since its launch in August, 1,388 kg of food has been shared - enough to fill more than 55 brown food recycling bins.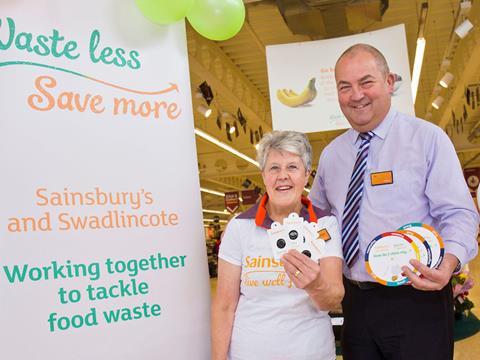 There are also plenty of smaller-scale projects on the go. Lisa Brooks, a Swadlincote resident and environmental health officer, has been involved with many. She volunteered to become one of the Waste Less, Save More 'focus families' at the beginning of this year.

Since then, she has attended cooking workshops, taken part in kitchen challenges to make food last as long as it can, and used Winnow, a smart meter that calculates the monetary value of binned food, and acted as ambassador for food sharing app Olio, on which 10,000 food items have been shared in just Swadlincote and one other town.

Some trials have been more useful than others, but ultimately the experience has changed her mindset. "It's made me think more about what food we're buying and just trying to make sure just what we need," she says.

Fellow resident and full-time mother Lisa Edwards was one of the 20 families who also received a Bosch smart fridge with a built-in camera, which aims to cut back on unnecessary food purchases by relaying images of what you already have in stock to mobile devices. Using this to plan her shop, while also dabbling with Winnow and Olio, has made her think differently about food waste, she says. And Lisa's two children will soon be at the age where they learn about food waste, too. Sainsbury's has drafted in volunteers (sometimes from its own stores) to go into schools and educate pupils about the issue, which has yielded a 37% decrease in waste on the premises. At Belmont Primary School, the excitement around a lesson called 'portions and potions' - focusing on portion sizes and 'potions' made from fruit juices - is palpable.

Deborah Clark, Waste Less, Save More project manager at Sainsbury's, says this excitement continues beyond the classroom. "A year five kid wrote a poem two weeks ago unprompted about Waste Less, Save More and what you can do with mashed potato and chicken leftovers," she says. And teachers say they "can't go through the building" at lunchtime without pupils boasting about their plates being clean. The hope is that kids will not only take on board the lessons on food waste, but also pass on this enthusiasm to their parents.

The enthusiasm of those employed by the scheme is also heart-warming. South Derbyshire District Council - which has partnered with Sainsbury's for the initiative - relates how little in the way of expertise the cooks preparing the breakfast bring. They are 'food waste champs' funded by the Waste Less, Save More grant. "None of us are experienced chefs at all, we're just normal people who are really passionate about reducing food waste. So we'll use recipes from the internet or mostly we'll base it on surveys of what food people waste in Swadlincote," says Gillian Coates, the Waste Less, Save More lead at the council. And the public response has been huge. "People love to sample the food and get talking to us."

Still, there is plenty more work to do. Last month, Sainsbury's announced the extension of its Waste Less, Save More project to a further 110 communities around the country. And they will have plenty of lessons to learn from this small Derbyshire town.