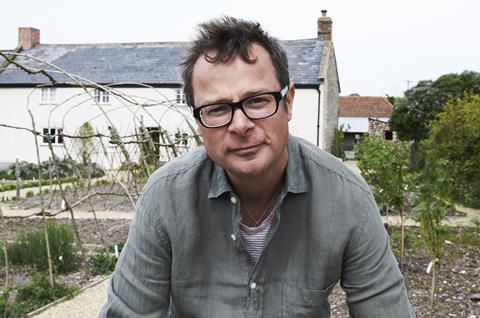 Celebrity chef Hugh Fearnley-Whittingstall and business leaders from food and drink have joined forces to back a fundraising drive to pay for legal action against the government's climbdown on food waste transparency.
Fearnley-Whittingstall is fronting a video appeal to support a crowdfunding effort by Feedback to pay for a judicial review of the government's decision to scrap its plans for mandatory food waste reporting by food and drink companies.
Lawyers Leigh Day filed an application for the review last month after Defra announced in the summer it was scrapping plans first promised by Michael Gove in 2018 because of the possible impact of mandatory reporting on driving up food prices. This came despite an official consultation showing overwhelming support for the proposals.
Fearnley-Whittingstall said the volume of food going to waste and lack of accountability was "a scandal, especially when so many people are going hungry".
Feedback, which accuses ministers of caving in to big businesses, also featured several business leaders in the video on social media.
Join @HughFW and help us fight food waste! 🍅

We're taking legal action against the UK gov't for scrapping plans to introduce a historic food waste law. But we need your help to cover the cost of legal fees.

Donate now! https://t.co/gts9EIa26b @Olio_ex @ToastAle @DashDrinks pic.twitter.com/JVdknbk9Vm

— Feedback (@feedbackorg) November 16, 2023
"Many businesses are are keeping us in the dark while their food waste goes unchecked," said Tessa Clarke, founder of food sharing app Olio, one of those featured.
Alex Wright, founder of Dash Water, said the decision "goes against the government's own food waste experts (Wrap) and ignores the wishes of nearly all the people who responded to the consultation".
"It's a scandal that the UK has scrapped a pioneering new food waste transparency law after caving in to big business," added Feedback executive director Carina Millstone.
However, a series of major companies, including Tesco, Sainsbury's, Ocado and Waitrose, have also backed calls for mandatory reporting.
Last week The Grocer revealed 16 of the world's major food companies reported aggregated figures of their food waste in a move by the Consumer Goods Forum's Food Waste Coalition of Action to improve transparency on food waste.
It showed they sent 600,000 tonnes of food waste to landfill and a further 720,000 tonnes to anaerobic digestion according to their latest figures, a new report reveals.
However, only 16 of the 21 companies in the group provided figures. Wrap, which oversaw the reporting, said the figures needed to be "treated with caution" and could be much higher.