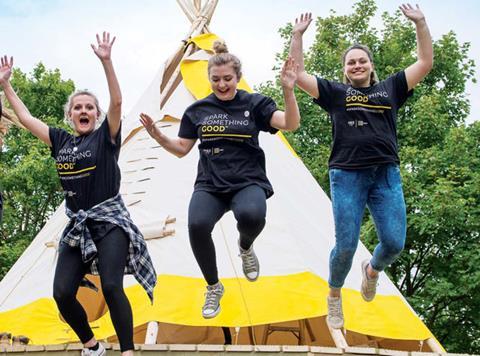 Marks & Spencer has cut food waste from its stores by 9% in the past three years.
The retailer revealed the achievement as part of the latest update of its Plan A CSR commitments, while at the same time announcing its support for The Grocer's anti-waste campaign.
"We're supporting The Grocer's Waste Not Want Not campaign," said M&S food director Andy Adcock.
"Reducing waste is something we're passionate about and I'm pleased to say we reduced our food waste by 9% last year and have already rolled out our unsold food redistribution scheme to all of our owned stores. However, we recognise there is much more to do and campaigns like this will bring the industry together, helping retailers and brands tackle waste and make positive changes."
The 9% reduction in food waste saw tonnage fall from 4.22/1,000 sq ft in 2013/14 to 3.84/1,000 sq ft in 2015/16.
The target for 2019/20 is 3.38/1,000 sq ft and its Plan A commitment is to reduce food waste sent to anaerobic digestion by 20% by 2020.
The reduction has been achieved through improved sales estimation plus the nationwide rollout to 524 owned stores of an unsold food redistribution scheme with social network website Neighbourly.com.
Through Neighbourly, M&S stores work with more than 500 charities such as food banks, churches, community centres, community cafés and hospices to redistribute food.
"We are able to support with fruit, vegetables, bakery items and grocery items like pasta, cereal and cooking sauces," a spokesman said. "All are either approaching their use-by date or are past their best before date but still fit for consumption. Any food that can't be redistributed is sent to create energy through the anaerobic digestion process. Nothing goes to landfill."
In its supply chain and distribution network, M&S works with partners, including Company and Community Shop and FareShare.
The latest food waste figure was revealed in M&S's 2016 update on its Plan A sustainability programme, which began in 2007 with 100 commitments to be achieved within five years.
In 2010 it added another 80 commitments. Many have now been met and the revised Plan A 2020 has a balance of 100 commitments.
CEO Steve Rowe said M&S was putting its 32 million customers "right at the heart of our business".
"That includes Plan A as much as any other part of our business and that's why Plan A is now part of our customer and marketing team. It is a crucial part of how we engage with our customers, gain their trust and make every moment special for them.
"We know that Plan A is a win-win approach - a simpler, more efficient, less wasteful business is better for the planet and our bottom line - so we'll chase that even harder."
A total of 22 Plan A commitments were achieved in 2015/16.
Other highlights included nearly three-quarters (73%) of all M&S products having an eco or ethical quality (up from 64% last year). In food, an example was the launch of Active Health cholesterol-lowering prepared meals.
UK and Ireland stores and warehouses also improved energy efficiency (energy use down 39%) and water efficiency (down 31%).
All palm oil used in M&S products in 2015/16, meanwhile, was Roundtable on Sustainable Palm Oil (RSPO) certified.
Firsts included the launch of an interactive supply chain map showing where M&S gets its food, clothing and home products. Some 540 food suppliers are listed.
Another first is publication of the M&S Human Rights report. M&S has joined the UN Global Compact and today published its first-ever Human Rights Report.
"The report outlines M&S' approach to respecting human rights both within its own business operations and throughout its supply chain."