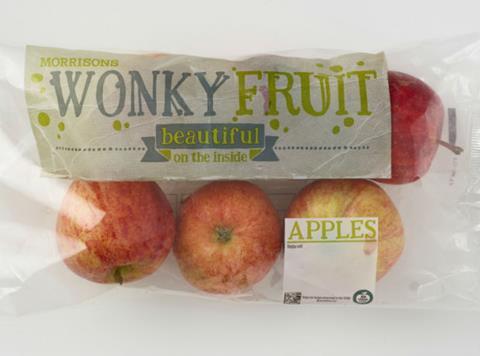 Morrisons has joined Tesco in selling apples superficially damaged by the cold spring season as it adds the fruit to its Wonky range.

April temperatures fell to -4C in some areas of the UK causing a blemish on the skin of apples known as frost eye or frost ring, and reducing the quantity of fruit on trees, said Morrisons.

The addition of Wonky apples, which went on sale today (6 November) at an rsp of 80p for a 5-pack, would help farmers sell produce that would otherwise go to waste, it cliamed.

Morrisons insisted the blemishes were purely cosmetic with no adverse effects on taste or eating quality.

"We want to see good fruit eaten," said Mark Booth, apple buyer at Morrisons. "Whenever bad weather damages fruit, we'll work with our growers to help them make the most of their crops. Our wonky apples might be a little ugly, but they will taste great."

The Wonky range already includes cabbage, cauliflower, peppers, asparagus and leeks, selling around 500 tonnes every week.

Tesco announced in September it would relax quality specifications on its apples to include those affected by frost eye.

Meanwhile a commercial apple shortage has been created by the Polish harvest being predicted to fall 30% on last year, causing a spike in prices. Poland grows around a quarter of the EU's total apple output at around 3.2 million tonnes, making it the Union's biggest supplier.
● Are you #seriousaboutsurplus? Then sign our petition to get more edible surplus food to charity. https://petition.parliament.uk/petitions/204156