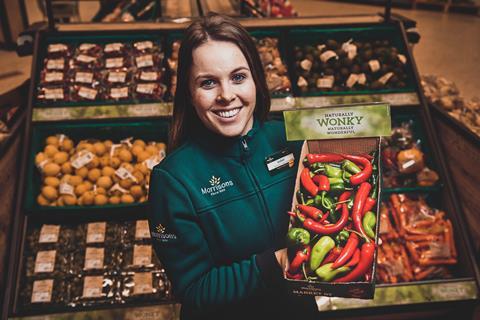 Shoppers have lapped up Morrisons' lineup of wonky fruit & veg, with the range now present in 12% of all shopping baskets.
Year-on-year sales of imperfect and misshapen produce had tripled compared with this time last year, according to the latest round of Kantar Worldpanel supermarket share data, published this week. This helped contribute to a 1.9% rise in total value sales by the supermarket for the 12 weeks to 17 June 2018.

The range's snowballing popularity meant Morrisons now shifted about 500 tonnes of wonky fruit & veg per week.
Its has also been boosted by the retailer's first wonky produce-themed TV and radio ads, which debuted in April, and coincided with a commitment to expand the range by 50% this year to 33 products, sourced from 22 countries. Meanwhile, the supermarket has also committed to introducing more exotic fruits to its wonky range, with the launch of wonky kiwifruit and avocados, also in April, alongside chillies and its first frozen product, a berry mix.
"Consumers have responded very well to Morrisons' wonky fruit & vegetable lines," said head of retail and consumer insight at Kantar Worldpanel Fraser McKevitt.

This had helped the retailer's cheapest tier of own label products enjoy a "remarkable" year-on-year value sales grow of 18%, he added.

"We have increased the number of wonky fruit & veg varieties that we stock, and customers have really taken wonky to their hearts," said a Morrisons spokeswoman.

The UK's fourth-largest supermarket came under fire in 2015 when Hugh Fearnley-Whittingstall's documentary Hugh's War on Waste accused the retailer of failing to act on food waste by setting strict quality specifications, resulting in up to 40% of one of its suppliers' parsnip harvests going to waste.

However, it has since committed to tackle food waste in its supply chain, and launched the wonky range in 2016.

Last month, the retailer published its food waste figures for the first time, announcing just over 11,000 tonnes of edible food was wasted across its stores in 2017/18. It pledged to use that figure as a reference for efforts to cut down further, citing the wonky range as a key part of its strategy.

Sales at Morrisons hit £2.9bn, up £53m on the same period last year, according to the Kantar data. The supermarket also saw double-digit growth in online sales, though its overall share fell by 0.1 percentage points to 10.6%.