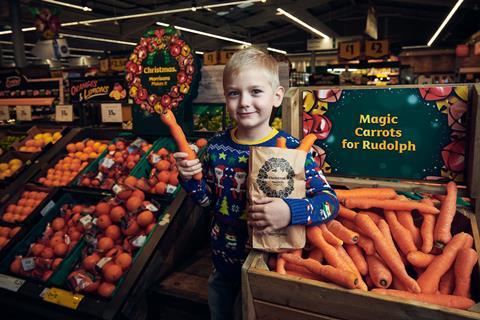 Morrisons has announced it will give away 125,000 paper bags of wonky carrots to customers in the run-up to Christmas.

The carrots - which are oversized, misshapen and scarred - will be handed out in bags labelled 'Carrots for Rudolph' from the entrances of 493 Morrisons stores on 21 December.

The supermarket said the move was aimed at introducing children to wonky veg and encouraging families to buy the range, aimed at tackling food waste.

"We want to make it easy for our customers to enjoy these magical Christmas traditions," said Andy Todd, carrot buyer at Morrisons.

"At the same time we want to highlight that wonky carrots are just as tasty as perfect-looking carrots - to support our farmers."

Morrisons will also be giving customers Christmas oranges for stockings on 22 December, along with a story-card telling the history of the tradition - which parents are encouraged to read to their children ahead of the big day.