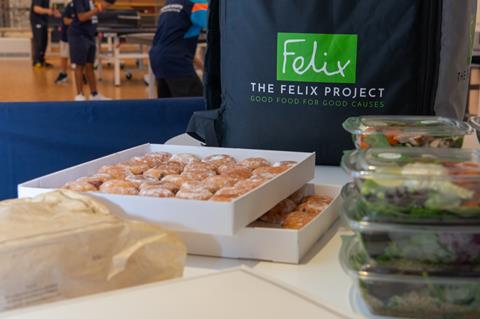 Paul bakeries have raised £13,000 for surplus food charity the Felix Project as part of its annual UK Christmas fundraiser, as well as securing more than 55,000 surplus meals through its partnership with Too Good To Go.
The bakery chain – with 37 outlets in the UK – donated 50p from every 'Festive Pig' Christmas sandwich sold to the Felix Project.
The London charity saves surplus food from suppliers, including supermarkets, farms and delis, and redistributes it to charities and schools to feed those in need.
As part of its commitment to reducing hunger and waste, Paul also turned five tonnes of surplus bread into bread pudding last year, distributed daily to the charity's shelters and schools.
Paul has been working with the Felix Project for four years and has raised a total of £51,000 for the charity.
"Each year, we run a Christmas fundraiser, and given the popularity of our Christmas sandwiches, it seemed only right to donate a percentage of sales to 2019's appeal," said Rachel Meier, sustainability development and project manager at Paul.
"Knowing that we are helping to close the hunger gap in London, whilst simultaneously reducing our impact on food waste by working with the amazing team at the Felix Project, means it's a win-win for our communities and the environment."
Mark Curtin, CEO of the Felix Project, added: "Paul's continuing generosity in donating surplus food and raising money through its award-winning Christmas sandwiches means that we can continue to rescue and deliver more meals to those people in London experiencing hunger. We are so grateful for their continued support and look forward to working with Paul throughout 2020."
Supporting its wider aim to minimise all food waste by 2021, Paul also joined Too Good To Go in 2018. The app allows consumers to purchase unsold food from a variety of eateries at the end of service to prevent waste. All 37 Paul bakeries are now signed up, helping save 55,012 portions of food from going to landfill thus far.