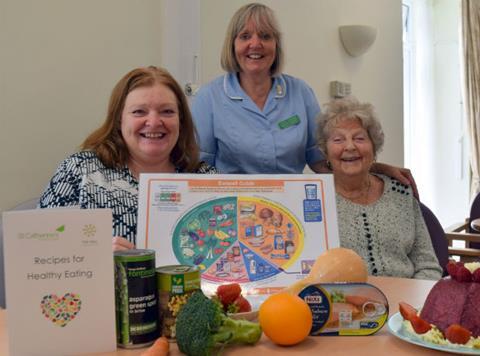 Each day it costs £100k simply to keep St Catherine's Hospice up and running.

Based in Preston, the charity cares for up to 200 adults at any one time, all suffering with life-threatening conditions such as cancer, motor neurone disease and heart failure, by providing specialist care and support to them and their families.

And of its £5.2m annual running costs, the hospice must raise £3.5m itself.

That's why the surplus food it receives from FareShare, which works with charity Recycling Lives in the area, makes such a difference. The food received by the hospice from its local depot, which would otherwise have gone to waste, helps widen meal choices for patients, including those whose diets are limited by their illnesses. It contributes to the four daily meals for in-patients and three-course lunches for those attending therapy sessions that the charity provides.

Not only have donated ingredients been used in the dishes served to patients, but they have also featured in a series of nutrition education sessions delivered to patients in order to equip and empower them to recreate healthy and nutritious dishes suitable for their condition and situation at home.

"FareShare is a brilliant idea because it offers more choice for our patients and helps us to meet individual diet preferences - helping to improve their quality of life," said Nicola Hanmer, commercial catering manager at the hospice. "It also saves the charity money, which is so important when we have to raise £3.5m every year through fundraising and donations. Not only that, but the scheme also helps to reduce food waste, which is a huge and very important issue. We're very proud to be involved with such a worthwhile scheme, and thankful for all the wonderful donations we have received."

Tea, coffee and bottles of fruit smoothies have all been vital foods donated by FareShare to the charity too, helping patients that have difficulty swallowing with consuming calories. And any extra donated ingredients feature on the menu of the monthly fundraising theme night run by the hospice to add to the huge £67k it must raise each day to simply to survive.
Sign our petition

We want food to be eaten - not end up in the bin. Join our campaign and take action on food waste: