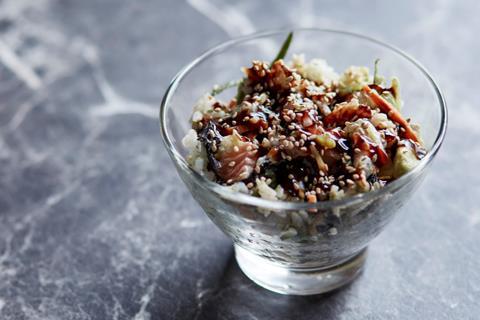 Sushi Daily is to begin selling the 'Forgotten Ends' of sushi rolls to crack down on food waste across its counter estate.
It will charge £1.75 for pots of the off-cuts, which would otherwise be discarded, combined with edamame beans, at its counters in 100 supermarkets across the UK.
20p from each pot sold will be donated to Action Against Hunger.
Food waste was "an important issue and it's our priority to tackle it", said Sushi Daily UK MD Ian Roberts.
"When our sushi artisans roll the sushi, some ingredients get pressed out of the end and then trimmed away. Now we've found a way to repurpose these great ingredients."
It's the latest in a series of sustainability initiatives rolled out by the sushi business.
In January, for instance, it announced it was ditching the black plastic packs the category is known for, replacing them with 100% recycled and recyclable blue trays and lids developed in partnership with an unnamed packaging supplier.
It also introduced end-of-day price reductions last year.