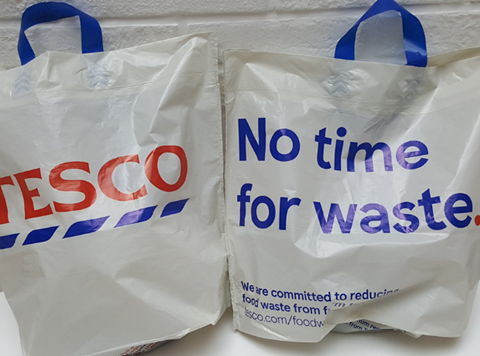 Two dozen of Tesco's biggest suppliers have agreed to start publishing food waste data for their operations in the next 12 months.

Speaking at a meeting of the Champions 12.3 group in New York today, Tesco CEO Dave Lewis announced partnership agreements with a raft of its biggest suppliers, which have agreed to adopt the UN's Sustainable Development Goal to halve food waste by 2030.

Lewis said the suppliers, which represent over £17bn worth of Tesco sales, will publish food waste data within the next year, following the lead of companies including Tesco and rival retailer Sainsbury's.

The partnership suppliers are: Yeo Valley; Gomez; Branston; Greencore; Icelandic Seachill; AMT; DPS; Kepak Meat Division; G's; Allied Bakeries; Moy Park; Richard Hochfeld; Ornua; Cranswick; Samworth Brothers; 2 Sisters; Hilton; Espersen; Greenyard Frozen; Müller Milk & Ingredients; Kerry Foods; Bakkavor; Froneri; and Noble.

"Great progress has been made, but the reality is that we need many more companies, countries or cities committing to halve food waste by 2030, measuring and publishing their data and acting on that insight to tackle food waste. I am delighted that many of our major suppliers have taken this important step so we can work in partnership to reduce food waste," said Lewis.

Tesco's move is another major success for the Grocer's Waste Not Want Not campaign which is supported by Tesco. Since it was launched in May last year, the campaign has called for greater transparency from companies on levels of food waste.

Earlier today a major report by Wrap and the World Resources Institute warned that the failure by the vast majority of companies to publish food waste figures was holding back efforts to measure the success of initiatives to tackle food waste.

Food waste campaigner Tristram Stuart welcomed the news of Tesco's breakthrough with suppliers.

"We have been challenging Tesco and other supermarkets on transparent reporting of food waste for years now," he said.

"This commitment to ensure that supply chain waste is measured and reported makes Tesco the world-leading supermarket on transparent food waste reporting, and represents a significant step towards meeting the global goal to halve food waste by 2030. "It's time for other businesses to follow suit, and for Tesco, along with the rest of the world's supermarkets, to demonstrate, if they can, that their businesses are not inherently wasteful."

Tesco also announced today its businesses in the Republic of Ireland, Poland, Slovakia, Czech Republic and Hungary have published their food waste data, following four years of publication in the UK.