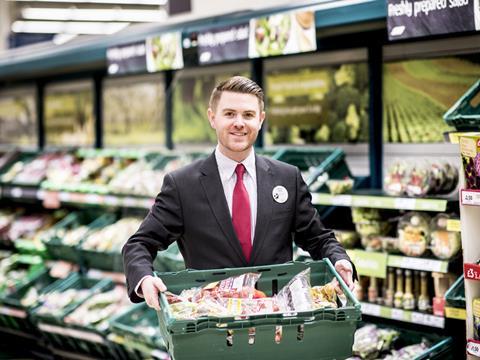 Tesco is doing the best job at tackling food waste, according to a new ranking of the supermarkets developed by The Grocer.

Tesco's "pioneering" approach to food waste in stores and across its supply chain, earned high praise for its transparency, innovation, commitment and results.

"The levels of investment and seriousness with which Tesco are taking this challenge are second to none," said one expert.

Part of The Grocer's Waste Not Want Not campaign, the ranking used the latest figures on reduction and redistribution across the UK's 10 largest food retailers, and combined these with expert views on performance .

Sainsbury's came second with M&S and Aldi third and fourth.

"Being recognised for the progress we've made to reduce food waste is testament to the hard work of our colleagues," said a Tesco spokesman.

Tesco's FareShare Food Cloud scheme was first trialled in 2015 and, following a rollout in June, is now live in 600 stores - with more than 2,200 partnerships set up with local community groups and more than one million meals redistributed. "We have said that no edible food will go to waste from our stores by the end of 2017, and are making this happen by rolling out our charity surplus food donation programme to all our stores," the spokesman added.

Together with surplus from DC's, Tesco has redistributed around 8,200 tonnes since 2012.

Tesco was also praised for its decision to release annual figures on food waste - the only retailer to do so - and the willingness of its management to "open up their hands and say 'tell us what we're doing wrong'."

"Publishing our food waste data has been instrumental in showing where we need to focus our efforts," the spokesman added. "It's important others step up and share their data in this way too."

Tesco also speaks "loudly and proudly" about its success and uses "its position of power to encourage wider industry change," added one expert.