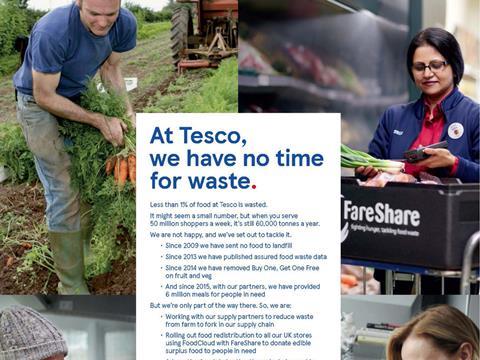 Tesco is to start giving surplus food to its shop staff in a bid to hit its zero-waste target by March.

The retailer is to introduce a new scheme called Colleague Shops at all of its UK stores, which will give staff the opportunity to take food if Tesco is unable to find a charity or community group that needs it.

Tesco said charities would still be offered surplus food first, but after that it would seek to cut waste and provide a bonus for its staff, by giving them "a bargain".

The retailer is installing dedicated storage areas and fridges in back-of-store colleague rooms, which it said would be used to safely store quality food on its use-by or best before date.
The Colleague Shops will be introduced to stores by the end of next month. The retailer said staff would initially be charged 1p per product, but items would become free of charge later in the year.

The supermarket giant has set out to become the first retailer to ensure that no food safe for human consumption will go to waste in its UK retail operations by the end of 2017/18. CEO Dave Lewis has announced that it expects to reach the target in March, when its financial year comes to an end.

As well as reducing products to clear, Tesco has been fighting food waste by distributing food to local and community food groups through its surplus food initiative, Community Food Collection.

But it said not all the food was needed by charities.

"We want to do everything we can to make sure perfectly good food doesn't go to waste," said Tesco head of food waste reduction Mark Little.

"Our Colleague Shops are a win-win, providing an additional step to support our efforts to tackle food waste in our own operations, and offer colleagues an extra little help at the end of their shift."