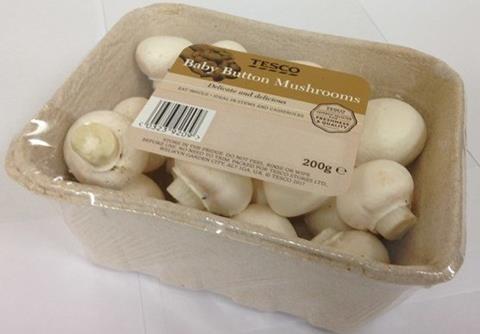 Tesco is trialling new mushroom packaging that will help reduce food waste by keeping the produce fresher for longer.

The launch of the pulp punnet comes after customers complained that the current plastic packaging sometimes put them off buying mushrooms, as the condensation that forms within the punnets can lead mushroom quality to deteriorate.

In a blog on the Tesco website, buying manager James Cantoni said the deterioration from condensation would not happen in the new packaging.

"In a standard plastic punnet, moisture cannot be absorbed and sits in the bottom of the container. This exposure can lead to increased deterioration of the mushrooms by becoming discoloured and soft. These new punnets will prevent that," said Cantoni. "The punnets are made from fully recyclable material and allow for moisture to be absorbed, while still maintaining integrity."

This new packaging is the latest step by Tesco to try and reduce food waste, following the retailer's decision to buy 220,000 extra cauliflowers from suppliers last month, and the launch of a 'hotline' to aid suppliers.