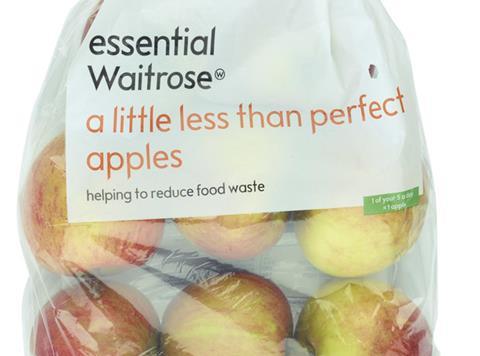 Waitrose has added weather-blemished apples and pears to its A Little Less than Perfect range of wonky fruit & veg.

The retailer has sold misshapen apples and pears before, classified as class 2, along with green beans, potatoes and tomatoes. However, this is the first time it has added them to the A Little Less than Perfect range which, until now, has only included carrots, parsnips, onions and potatoes. Strawberries were also added for a brief period in the summer.

The range was designed as part of the retailer's commitment to cut down on food waste by selling produce that might otherwise be discarded rather than eaten.

The apples and pears now joining the range exhibit adverse weather effects, including skin imperfections or unusual shapes, but taste the same as perfect fruits.

Waitrose said they showed the range's flexibility and how it could adapt to include a variety of slightly wonky but just as tasty produce throughout the year.

"At Waitrose we really value the long and trusted relationships that we have with our growers, so we're excited to bring even more of their crop to market through the A Little Less than Perfect range," said Greg Sehringer, Waitrose apples and pears buyer.

"These apples and pears may be slightly unconventional in appearance but are just as delicious and great value, making them perfect to use in pies and crumbles or to simply enjoy as they are."

All the bags will carry the range's message "helping to reduce food waste", with varieties dependent on what was available at the time.

They will come in minimum packs of seven pieces and retail at £1.50 with apples in 282 branches and pears in 90 branches, due to smaller stock.