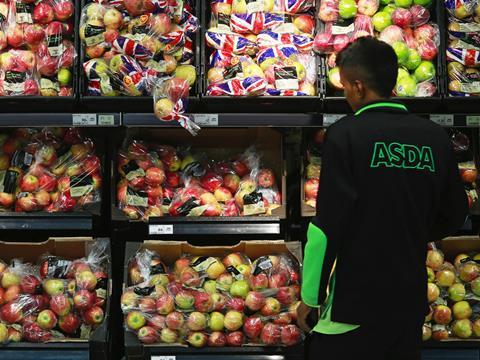 If Theresa May were in charge of Asda, a u-turn would likely be on the cards. The backlash over its move to stop selling loose fruit & veg has been strong enough to raise serious questions.

Some consumers at its Bedminster branch were so incensed at the environmental and food waste implications that they reportedly went on the warpath, tearing open packets. One angry shopper summed up much of the incredulous response on Twitter: "Asda have stopped selling loose fruit & veg? This is actual madness?"

In response, Asda is already showing signs of a backtrack. Loose carrots are now back on sale, and it is understood other products could follow as Asda assesses the feedback from its trial in all stores, which started this month.

So has Asda really lost the plot on packaging - especially when its biggest rival Tesco has upped the war on plastic this week with a ban on 5p bags - or is there method in the madness?

The rationale is less than clear, not least because communication around Asda's strategy has gone into virtual lockdown over recent months. However, The Grocer understands the supermarket hoped to appeal to the large number of families shopping at Asda who are happy to buy in larger packs and are more interested in price than individual products.

Asda's research is believed to have shown it can drive down the in-store and supply chain costs of loose fruit & veg, which will enable it to be more competitive. "Price is one of the key drivers on this," says one source. "Asda is facing fierce competition from the discounters and increasingly from Tesco on fresh produce and it thinks it can keep prices down by this type of packaging."

However, sources tell The Grocer food waste was also a motivating factor - despite arguments that selling packaged goods could increase waste in the household.

Ironically, it was Tesco that complained of the impact of loose products on waste back in December 2013. Tesco's then commercial director for fresh food & commodities Matt Simister told the Lords EU sub-committee on agriculture: "Customers always pick the cream of the crop first and the rest gets left. Then new deliveries come in and the old, ugly produce goes to waste."

Although it won't say as much, Asda clearly subscribes to the same argument. Jane Bickerstaffe, outgoing chief executive for the Industry Council for Packaging & the Environment (Incpen), believes its silence stems from supermarkets being too scared to speak out in favour of packaging despite evidence of environmental benefits.
'Packaging cuts waste'
"No doubt Asda are doing this because it saves costs but also because they will have realised it reduces waste," says Bickerstaffe. "Supermarkets keep their heads down because it's controversial. It's a shame because when you explain the benefits of packaging most people are logical and the penny drops. It has been proven by research over many years that when it comes to loose fruit & veg there are huge reductions in waste thanks to packaging."

In its evidence to the Commons environment, food & rural affairs committee inquiry into food waste in April, Incpen attacked stakeholders and campaign groups advising people to avoid packaged goods. "This actually leads to more food waste," it said. "Unpackaged produce, if not consumed within a short period, ends up as waste. An unwrapped cucumber loses so much water within three days that it becomes dull and is unsaleable. A thin plastic wrap extends its life for up to 14 days. Loose new potatoes turn green after a few hours under lights. In an opaque bag, they last for days. Bananas packed in sealed bags last far longer than loose ones."

Bickerstaffe claims consumers don't realise the amount of packaging, transport and display materials used for loose produce either.

M&S research supports the argument. In 2003, it found loose apples resulted in more than double the amount of packaging waste than biodegradable and non-biodegradable packaging - and more energy than the four-packs.

Loose apples involved more waste at the packaging production, packaging plant and retail stages, and the waste arising on these business sites was far more significant than the small amount of packaging thrown away by the consumer.
A 'step in the wrong direction'
Yet many of today's environmental campaigners are no longer buying that argument.

Martin Bowman, UK gleaning co-ordinator for food waste organisation Feedback, claims Asda's move is a "huge step in the wrong direction", which will result in an increase in unnecessary plastic packaging and increase waste. "The packaging industry likes to present itself as the solution to food waste but Asda's move is not only likely to lead to more food waste in the home, it's also piling pressure on farmers to provide fruit in uniform shapes and sizes."

Feedback claims packaging industry research claiming packs increase shelf life are not robust enough, and increased shelf life is aimed more at increasing supermarket profitability than reducing waste.

Anna Taylor, executive director of the Food Foundation, also believes Asda is contributing to food waste by reducing choice. "Fresh fruit & veg looks even more tempting when not covered in plastic," says Taylor. "We need to be able to buy just the right amount, which is important for waste reduction and affordability. When the case for eating more fruit & veg could not be stronger, retailers need to do all they can to drive up consumption."

Others believe packaging on fruit & veg is just an excuse to charge higher prices. Last year a Money Saving Expert investigation claimed it would cost consumers more than £100 a year extra if they bought apples, bananas, broccoli, mushrooms and courgettes weekly in pre-packed versions compared with the same weight loose. (Although Asda's packaged produce is sometimes cheaper.)

Asda must be hoping its packaged prices get a better verdict among customers, or it might find itself in full reverse gear before too long.