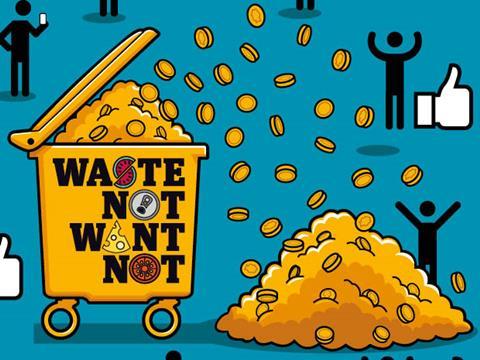 A flagrant attempt to distract us from her disastrous reshuffle it may be, but Theresa May's declaration this week of a war on plastic waste is at first glance a smart move.

Clogging up our oceans, killing wildlife and churning out toxic chemicals, our dependence on single-use plastic is disastrous for the environment and - largely thanks to David Attenborough and the brilliant Blue Planet II - uppermost in the public's mind too. What better way to deflect attention from the political fiasco of the past few days?

A closer look at the nuts and bolts of Mrs May's proposals though and its a 'war' the prime minister, already juggling Brexit, a divided party and a divided country, looks set to lose. Take her plan for a plastic-free aisle in the supermarket. Putting to one side the fact that even May won't be able to cling on till 2042 to see this so-called 'vision' through, trials to install self-dispensing replenishment systems in supermarkets a decade ago demonstrably failed.

It all screams of a prime minister determined to win back the masses at any cost. If she's serious about bringing about change, why not look at the marginal gains offered up by offering paper bags in the fresh produce aisles, for example, or Michael Gove's proposals, mooted in a pre-Christmas speech, of a unified national waste collection system?

Plastic isn't going away overnight. So while the long-term solution should be to decrease it in favour of more environmentally friendly solutions, we need to scale up our infrastructure to support consumption habits, not to put the onus on supermarkets to fix society's ills all the time.

And while we're on the topic, plastic isn't the only waste blighting our planet. With an estimated one third of food produced worldwide thrown away, food waste is the third-largest emitter of greenhouse gases, behind China and the US, without even factoring in the huge waste of power spent producing it. Yet food is nowhere to be seen in Mrs May's vision for a less wasteful future. And unlike the mind-boggingly complex and multi-faceted task of ditching plastic within 25 years there are simple changes that could make a huge difference to the volumes of food ending up in our rubbish bins.

As we've written about on numerous occasions now, a small amount of funding from May's cabinet could see 100,000 tonnes of this waste rescued from the rubbish bin, creating an 100 million extra meals handed to vulnerable people. This isn't the whole answer to addressing food waste, of course. This time last year Wrap admitted that, despite all their hard work on raising awareness, household waste had marginally increased. Undoubtedly to put this back on the right track will also require - as with plastic - a series of informed, strategic changes to nudge behaviours among shoppers, work with companies to improve processes and building up the redistribution infrastructure too.

But our plan would be a start. A far more informed, simpler and effective one than a plastic-free aisle, too.

Come on Mrs May, let's get #seriousaboutsurplus.
● Please join The Grocer's #seriousaboutsurplus campaign and sign our food waste petition