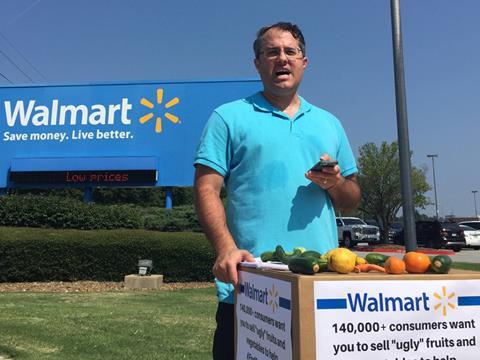 Walmart isn't easily intimidated. Shoppers can still stock up on sugar and shotguns at their 5,000 US stores after all. But that hasn't stopped anti-food-waste activist Jordan Figueiredo taking on the behemoth armed with little more than a 'One Eyed pepper frog', a couple of 'nosey tomatoes' and a lemon that looks like an aardvark.

Battling the US addiction to perfect produce has become a fixation for the California-based campaigner, who spends up to 30 hours a week working on his Ugly Fruit & Veg Campaign in and around his day job at local government. "It's my passion, I'm totally obsessed with it now," he says. "Ninety-nine per cent of what I do is free but I try to fit it in wherever I can. My mind is always on ugly produce."

The obsession started back in 2014 when Figueiredo became fed up with watching good food turned into compost as part of his day job in the "zero waste world" and began to work on solutions higher up the supply chain. He set up the Zero Food Waste Forum to generate debate and helped run the first US Feeding the 5000 event, alongside Feedback and its charismatic chief Tristram Stuart, distributing 5,000 free lunches made from surplus.

"After that I began looking at ugly produce because I thought it was ridiculous how much of the talk on food waste in the US is focused on consumer behaviour and not on pushing companies and supply chains to do more," he says. Taking to social media in December 2014 with a motley collection of wonky fruit & veg, he began tweeting "shapely pears that look like people's butts" and "kissing peaches", all to raise awareness of the nine million kilos of food cast aside each year at US farms, often for cosmetic reasons.
When Your Tomato Has A Very Long Nose! 🍅👃😱🙈 Pic by @chefbossuet #KeepItCleanPeople pic.twitter.com/TFB3MFwNlY

— Ugly Fruit & Veg (@UglyFruitAndVeg) December 1, 2016
One month and a handful of retweets from Jamie Oliver later, the campaign took off. Figueiredo now has 170,000 followers across four social media channels with people tuning in from more than 190 countries worldwide, of which 15-20% hail from the UK. "A lot of environmental and anti-food waste concerns are a bit grim but this approach reaches people on a note that those messages can't, because we're making it fun and about appreciating food."

From a standing start no fewer than seven US grocers have trialled imperfect fruit & veg since its launch. First came Raley's in July 2015, then Giant Eagle in March 2016, and Whole Foods the following month, after a petition launched by Figueiredo and nutritionist Stefanie Sacks attracted a "phenomenal" 11,000 signatures in a couple of months. Under pressure, the upmarket grocer agreed to launch a pilot project of imperfect produce across its Northern California stores in April.
Next on the hit list was Walmart. With 260 million customers across 28 countries how did he feel about facing up to the world's largest retailer?
"Daunting," laughs Figueiredo. But with 140,000 (now 158,000) signatures on a petition calling for the world's biggest retailer to start stocking wonky veg, the campaigner flew to their Arkansas HQ in July under the steam of $2,000 he'd fundraised for the trip.

Ushered into a private meeting with a few "sustainability and PR guys" Walmart insisted they were already making efforts, selling 'Spuglies' or ugly potatoes at 400 stores in and around Texas, and imperfect apples in Florida, both pilot projects "nobody had heard of" until Figueiredo announced his plan to turn up on their doorstep with the US media in tow. "They never admitted it but it was very coincidental all this happened when I was going to Arkansas," he says.

With that small victory won the media has largely given Walmart execs "a high five" for their efforts but Figueiredo is far from happy. "They haven't committed to this long term and that's why I've left the petition open. They should be working on this year after year with several items, like Wholefoods, but they haven't committed. It's as if they're trying these pilots out to get rid of the news stories and negative attention."

The activist doesn't buy excuses that retailers struggle to source misshapen produce or that consumers won't buy into it. Walmart simply isn't used to change, he argues. "They have this perception they want people to keep of pristine, uniform colour and shape, stacked in a pyramid produce aisle that looks beautiful. If you really looked at how nature grows things, it might be half of produce isn't grown to those specifications."

Walmart refuses to speak to him after his very public critique but he plans to keep the pressure up - and won't be doing it quietly. "It's so hard to move a behemoth like that. They claim if you talk to them and meet privately things happen but I don't think that's true."

He won't stop at Walmart either, with a third petition calling on the second largest retailer, Target, to do their bit already at 28,000 signatures. "Ugly produce should be sold everywhere, not only high end grocers like Whole Foods or budget friendly Walmart."

And that doesn't only include comedy peppers and knobbly pears, but "I'm using the 1% of the 1%, the superstars of wonky veg, to call it out. There is more that supermarkets could be doing, such as widening their specifications, but I haven't taken that angle yet as ugly produce is a win for everyone - farmers still sell their crops, grocers can buy them cheaper and try them out and people can buy them for less."

Beyond that he wants to see full transparency from "notoriously tight lipped" US grocers on their food waste figures, following in the footsteps of Tesco and Sainsbury's in the UK, and a closer look at how to build up Americas' redistribution network.

"I think the UK is leading the way and we're all trying to catch up," he admits. "So much work has been going on in the UK for 10-15 years and in the US it's only really just getting started. But a lot of Americans have this thing where you point to Europe and they tune it out."

He's confident they've reached a tipping point though. "As long as this election doesn't ruin all of our lives," he sighs. "People aren't even paying attention to food waste, and we all wonder if that's going to come back."

Though perhaps Trump has already done his bit for the cause, sharing a close resemblance to just the sort of "stubby-fingered carrot" US supermarkets should be selling in their stores.