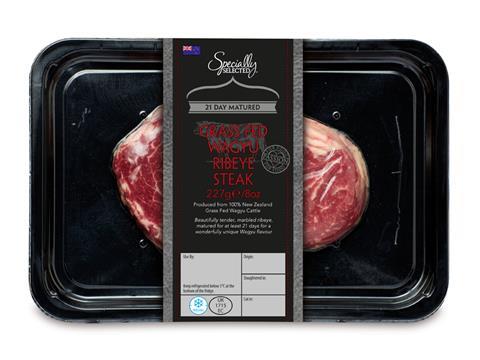 Aldi is launching a selection of Wagyu beef steaks next week as it expands its range of premium meat.
The Specially Selected Wagyu beef will be available at a starting price of £6.99 for an 8-ounce rib eye and sirloin. The steaks will be available from June 12; however, there will be limited stocks. A spokesman said each Aldi store would receive 50 Wagyu steaks to sell, with the products appearing as part of the discounter's 'when it's gone, it's gone' Specialbuys range.
Aldi has recently stepped up its premium fresh offer; it debuted legs of Serrano ham and lobster tails last year.
"At Aldi our shoppers love to try out lots of specialist products, and Wagyu is no exception," said Tony Baines, Aldi's MD of corporate buying. "This summer, our shoppers are looking to buy the finest fresh meat, so the steaks fill a real gap in the market."
Baines said sales of Aldi's Specially Selected fresh meat range have grown more than 60% over the past month, while 18.6% of Aldi's shoppers are now AB – the category commonly regarded as middle class – compared with 12.9% in 2012.
Originally from Japan, Wagyu cattle is known for producing highly marbled beef. Aldi's Wagyu is from New Zealand, supplied through Firstlight Foods.
"Unlike traditional Wagyu, which are kept in small pens, Aldi's Wagyu is free to roam in large paddocks, whilst eating grass for their whole lives," Baines said. "There are few Wagyu farms available in the UK, and we wanted to bring our customers the best Wagyu steak on offer, which is why we chose the New Zealand grass-fed Wagyu.
"Wagyu is commonly accepted as the finest cut of beef in the world," he added.
Wagyu products are also on sale in Asda, which currently offers seven Wagyu lines from the UK, including Wagyu burgers and ribeye. A spokesman for Asda said: "We have sold British Wagyu beef all year round for three years and still at a market leading price of £22 per kilo, along with wagyu burgers at £3.75 or 2 for £6. We work closely with our farmers to produce the very best quality of marbled Wagyu beef at a price which everyone can afford."