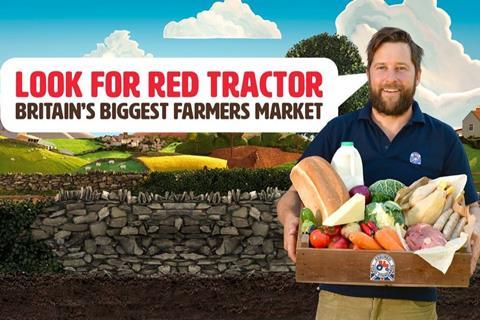 Red Tractor has launched a £1m advertising campaign which aims to get consumers to link its assurance scheme with buying British.
The 'Britain's Biggest Farmers Market' push will see the return of Red Tractor's 2018 prime time TV advert from Thursday (3 October) and will also be supported by retailers and food brands over the next eight weeks.
It follows polling by YouGov from May which showed Red Tractor received a considerable percentage-point boost in positive consumer behaviour since the airing of 2018's campaign, between September and November 2018.
Out of more than 2,000 people, 65% said seeing the logo had 'positively influenced' their purchasing behaviour, an increase of seven points compared to before the airing of last year's campaign.
When asked if they believed food with the Red Tractor logo had been checked by experts, 51% of the respondents agreed, a rise of 37 points. Meanwhile, the number of people who associated the assurance scheme with good standards for animal welfare and produce care rose by 33 points.
Red Tractor now hopes it can build on these figures by highlighting how the products carrying its certification are "trusted, safe and farmed with care".
"Red Tractor wants to support hard-pressed, time-poor Brits to feel confident and good about their choices when shopping and eating out," said its CEO Jim Moseley.
"'Britain's Biggest Farmers Market' has over 46,000 farmer members, and the food and drink using our logo is valued at more than £14bn.
"By choosing Red Tractor, people don't need to work hard or look very far to help foster a better future for British agriculture, farmers, growers and producers."
The advertising drive comes a year after Red Tractor announced it would beef up its modular standards in light of a series of food safety and animal welfare breaches.