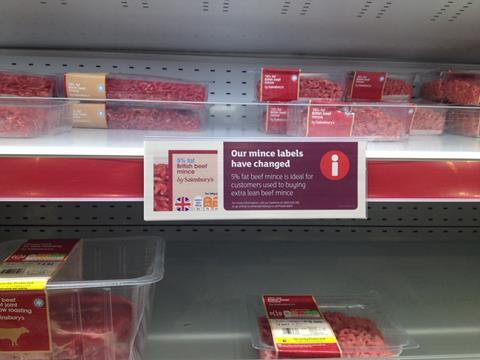 Sainsbury's has reformulated its beef mince to reduce fat content by 244 tonnes a year and changed the labels on its entire mince range to make it easier for shoppers to understand how much fat different products contain.
The retailer has switched to using leaner cuts for its eight beef mince lines – a move it said would save the equivalent of two billion calories a year from its shoppers' baskets. "In line with our pre-existing commitment to reduce fat in our own-brand products, in April 2014 we reformulated our minced beef to remove 244 tonnes of fat annually," a spokeswoman added.
At the same time, Sainsbury's has changed the labelling across all of its mince products – including pork, lamb and turkey – to better flag up how much fat they contain. Packs now state if the product contains 5, 10, 15 or 20% fat, having previously been labelled more generically as 'lean' or 'extra lean' mince, for example.
"Sainsbury's has always championed simple, clear on-pack labelling, and helping customers differentiate these products makes it easier for them to shop," the spokeswoman said.
Whereas the beef mince range had been reformulated to contain less fat, the pork, lamb and turkey mince lines had stayed the same despite the label changes, she added. "For the majority, we have simply stated the fat content that has always been present."
Sainsbury's is flagging up the changes to its mince range with on-shelf barkers in store (pictured), advising shoppers "5% fat beef mince is ideal for customers used to buying extra lean beef mince". It is also displaying similar notices in the meat, fish and poultry section of its website.
As part of its 20x20 corporate social responsibility plan, Sainsbury's has pledged: "we'll continue to reduce salt, saturated fat, fat and sugar in our own-brand products between now and 2020 and we will lead on providing clear nutritional information, enabling our customers to make informed choices".