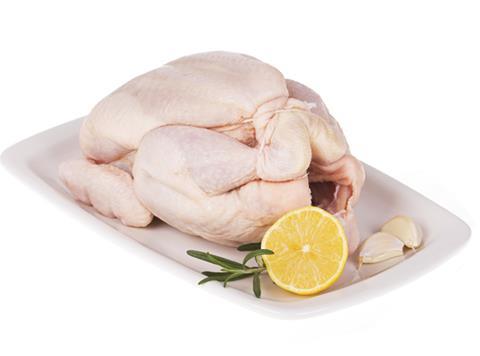 The FSA is to test 4,000 supermarket chickens over the next 12 months as part of a major new survey to assess levels of campylobacter contamination in the UK.
Sampling started in February and will be limited to whole, fresh chickens produced in the UK. The FSA plans to test chickens from housed as well as non-housed production systems (such as organic or free-range) "to clarify whether and how campylobacter levels differ" between different systems.
The results from the tests will be published in batches of about 1,000 samples every three months, with the first to come out in June. The published results will include retailer names.
Campylobacter is the biggest cause of food poisoning in the UK, and the FSA has made battling the bug its top priority. Campylobacter levels are monitored regularly by industry, but this survey will be the first time the FSA has assessed campylobacter in retail chicken since 2008, when about 65% of supermarket chicken was found to be contaminated with campylobacter.
Details of the new survey were revealed in a paper by FSA director of policy Steve Wearne, which will be discussed at the next FSA board meeting on 5 March.
Bob Martin, the FSA's head of foodborne disease strategy, said the survey would give the FSA "a new baseline" to work from. "It will also provide information about any differences between retailers and producers, which, we hope, will help us to see who is controlling campylobacter most effectively and whether there is anything that can be learned from them."
Last week, EFSA published figures showing cases of food poisoning caused by campylobacter were down across the EU for the first time in five years in 2012. But it warned that the bug remained a major concern and it was too early to suggest this was the beginning of a downward trend. This year's Food Safety Week – run by the FSA in June – will focus on campylobacter, with a message urging consumers not to wash raw poultry
Industry initiatives
Wearne's board paper outlined a number of recent campylobacter initiatives and research breakthroughs by retailers and the poultry industry. These include:
A successful trial of rapid surface chilling technology by Bernard Matthews and Faccenda, which has led to a significant reduction in campylobacter levels while staying within current legal requirements around temperature controls on fresh chicken. "Bernard Matthews plans to install this process […] when trials are completed at the end of February. The FSA expects a quick commercial scale implementation by poultry processors."
A new retailer communications working group to handle on PR and public affairs issues related to campylobacter, including developing consistent working for on-pack advice to consumers
An agreement from major poultry processors to share results of their own routine campylobacter testing on an attributed basis, to help with benchmarking and identifying industry best practice
New broiler standards from Red Tractor Assurance, potentially including unannounced audit visits, to be introduced in October 2014.
Wearne's paper also revealed that a major retailer had run a small trial offering financial incentives to farmers if their flocks tested negative for campylobacter, but said this had proved unsuccessful.