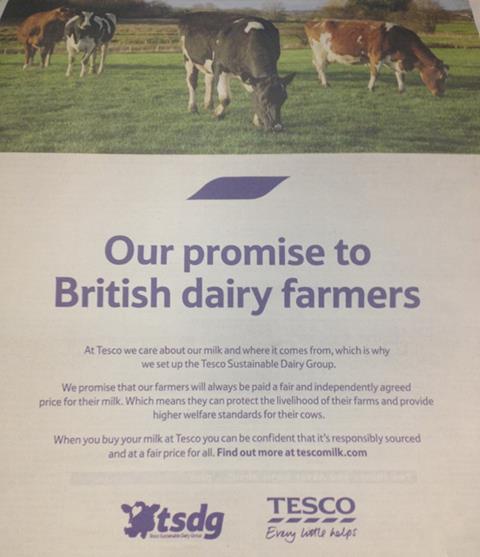 Farmer leaders have blasted Tesco 's decision to slash the price of four pints of milk to £1, saying the move sends the "wrong signal" to the market and risks undermining farmer confidence.
The price cut, which came into effect today, takes the price of Tesco's own-label skimmed, semi-skimmed and whole milk from £1.39 to £1 – a reduction of 28%. Meanwhile, the price of its six-pint bottles is down from £1.99 to £1.48, and in Northern Irish Tesco stores two-litre bottles are down from £1.09 to 90p.
It comes after the retailer announced a £200m programme to cut prices on everyday products last week.
Tesco sources its liquid milk through a dedicated group of farmers – the Tesco Sustainable Dairy Group – which receives a premium milk price based on a formula that takes into account cost of production.
"The industry needs to look forward and it needs to invest, and for that it needs a positive message"

Mansel Raymond, NFU
This farmer price will not be affected by today's retail price cut, but some farmers fear it could nevertheless have a negative impact on the wider market, by devaluing milk in the eyes of consumers and drawing other retailers into a price war.
"I would have expected more leadership from Tesco," said Mansel Raymond, dairy board chairman of the National Farmers' Union. "It sends the wrong message completely.
"The industry needs to look forward and it needs to invest, and for that it needs a positive message."
Prices for dairy commodity products such as milk powders were currently booming, so "what on earth are we doing devaluing the liquid product?," he added.
Raymond warned it was vital for the health of the industry that a supermarket milk price war be avoided, and called on other retailers to "resist a downward spiral" on milk prices.
Asda has sold four pints of own-label milk for £1 for some time, but Morrisons , Sainsbury 's and Waitrose currently still sell at £1.39 [BrandView.com].
Some experts are also warning Tesco's milk price cut could exacerbate milk price competition in the notoriously aggressive middle-ground milk market. "Tesco may keep farmer prices high, but there could be a knock-on effect as indies try to compete on the street," one expert warned.
Tesco response
For its part, Tesco has stressed it is protecting its TSDG milk farmers from the impact of today's price cut.
At the NFU Conference in Birmingham last week, group commercial director Kevin Grace reassured farmers the £200m price cut programme was an "internal investment" and supplier margins would not be hit.
And today, its commercial director, John Scouler, said: "We care about our milk and where it comes from, which is why we set up the TSDG. We promise that our farmers will always be paid a fair and independently agreed price for their milk, so they can invest in the future of their farms and provide higher welfare standards for their cows.
"When our customers buy their milk at Tesco, they can be confident that it's responsibly sourced and at a fair price for all."
Tesco has also been running full-page adverts in the national papers today, reiterating that same message, alongside adverts highlighting its move to £1 for four pints, headed "four-pint milk down and staying down".