Frozen food's 10 biggest advertisers forked out £22.5m on traditional ad space in 2014, a year on year decline of 14.5% [Ebiquity 52 w/e 31 December 2014]. The fall was driven primarily by McCain, Aunt Bessie's and Dr Oetker's, whose spend fell following big investment the previous year.
Meanwhile, market leader Birds Eye upped advertising investment by 71.1%, bringing its expenditure on ad space to £13.2m, more than double the rest of the top 10's combined outlay. Birds Eye MD Andy Weston-Webb says it was money well spent.
"The advertising and support programme to drive innovation has probably never been more important, given the change in the shopper mission," he says. "Like it or not, more and more shoppers are buying products through the discount channel and we have a fundamental belief that brands have to create awareness for themselves and showcase innovation."
Here's our pick of the most significant frozen food ads from the past year…
Sainsbury's: Love Your Freezer
Convenience is a quality the frozen food sector should be shouting about. And Sainsbury's took up the cause in January with the launch of its Love Your Freezer campaign in January. The retailer enlisted blogger Becky Wiggins to show just how convenient its own label frozen offerings are.
Wiggins whips up a risotto using pre chopped By Sainsbury's chopped onions, which 'save time as well as tears', spinach and king prawns, all of which can be cooked from frozen, to show us all just how easy it is using frozen cooking ingredients.
Ads like this – and of course the products they feature – will help transform frozen food's image. Shame the same can't be said for the By Sainsbury's rather products' staid packaging. The sack of chopped onions Wiggins produces from her freezer looks like a bag of oven chips circa 1985.
Birds Eye: Comedy Dad
Here at The Grocer we miss Clarence the polar bear, which Birds Eye ditched after three years' loyal service last year in favour of the new Food of Life advertising strategy. The new approach centres on frozen food as a central part of the healthy family meal.
And Birds Eye has hit the nail on the head. The jokes ('How long will the fish fingers be, dad? About four inches') may be cringe-worthy, but they'll strike a chord with anyone who grew up with an a 'comedy dad'. More importantly, they'll appeal to anyone doing the shopping for a family meal.
Still, you'd never have seen Clarence behaving in such a way…
Aunty Bessie's: Upgrade Your Roast Chicken
Sacrilege! Aunty Bessie's wheeled out Mabel and Margaret for this ad calling on Brits to do away with tradition and serve Yorkshire puddings with roast chicken. In our book this is an inspired, and humorous (what's not to like about a supped up mobility scooter?), effort to increase usage.
And it certainly seems to have helped. The ads were picked up in stories in the national press, as well as sparking a fierce debate at Grocer Towers over whether it's right to serve Yorkies with chicken, helping the Bessie's brand defy the more general decline in frozen food.
Back to: Creative challenge
Forward to: Weight Watchers is frozen's most social brand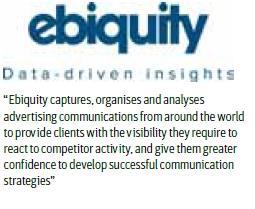 10 things you need to know about... frozen food
1

2

3

4

5

6

7

8

9

10

Currently reading

Clarence is gone... but Birds Eye ups ad spend by 70%

11