Historically considered a category that thrives in tough economic times, it is now well established that frozen food has not fared particularly well during this downturn.

True, there are some who believe the outlook is not that bad. According to Brian Young, director general of the British Frozen Food Federation, the sector has grown by £1bn since the global financial crisis exploded in 2007. And Asda reports October sales of frozen food across its estate were up 24% year-on-year, with a third of the average basket coming from the freezer aisle.

But even if frozen is not on the rocks, there is no denying it is floundering. Last year, only one area of the market, fish, was in value and volume growth this year, all six sectors are declining on at least one front (and, in many cases, two). The category as a whole has fallen 2.2% in volume - and the fact that values are up 1.6% is down in no small part to some particularly noteworthy performances from branded players.

In pizza, for instance, value sales of Goodfella's Thin are up 30.9%, while its Flatbread (renamed in August as Superiore) has grown values by 41.2% year-on-year. Indeed, Goodfella's has added more value growth than any other brand in the frozen category, with a spokeswoman attributing the boost in sales to the "thin category enjoying growth as a whole", as well as Goodfella's particular efforts in improving recipes and developing packaging.

The venerable Viennetta, meanwhile, shows no signs of being pensioned off, posting value sales growth of 11.8% and a 16.5% volume increase - a turnaround on last year's minor sales decline. Nielsen says owner Unilever has been hammering promotions, with Tesco providing "strong support".

But arguably the biggest winner is a new entrant to the pies, quiches and slices category. Debutante Greggs has jumped straight in at number three. It has made such an impact, says Nielsen senior client manager Richard Anderson, that without it, the sector - which posted the strongest value growth of all six frozen markets - would be in decline.

For such an auspicious debut, Greggs started cautiously. In July 2011, it launched a four-pack of its sausage rolls into 10 Liverpool Iceland stores, with an rsp of £1.50 - about half the price of its high-street shops. Within eight weeks the packs had appeared in 700 shops. The range, which now stands at 10 SKUs, has brought welcome incremental sales to Iceland - more than 50% of Greggs' sales come from shoppers adding to their existing shop. As Anderson puts it, the launch "demonstrates that with smart, targeted innovation, shoppers will spend a little more money on brands that resonate."

Other major players in frozen foods have had a mixed year. Dr Oetker, for instance, has retained the top three spots in the pizza category - but its Chicago Town Deliciously Deep and Casa di Mama brands are in steep decline. A spokeswoman for Dr Oetker explains that the brand's old Edge to Edge brand is being converted into Deliciously Deep, a change contributing to the latter's decline. "Casa di Mama is a very difficult USP to explain," she adds. "It's raw dough which bakes and rises, but it's not getting enough traction. We'll continue to invest to get that point across."

In truth, though, the biggest loser in frozen food is not a brand, but own label. It has lost sales on both value and volume fronts in four sectors: pies, quiches & slices, pizza, ready meals and desserts. In potato products, although it remains in slight value growth, volume sales have declined 8.3%. Anderson says key brands including McCain and Aunt Bessie's have been winning customers from own label after retailers were forced to raise prices following a bad year for potato crops.

The only area where own label can pat itself on the back is frozen fish, a sector in which major branded lines from Young's and Birds Eye are struggling, dragging the category into 2% volume decline. Own label, in contrast, has slipped just 0.2% in volume and kept value sales buoyant at 3.5%. "Classic ranges such as Young's scampi and Birds Eye Simply Cod lost significant ground to own-label alternatives," says Anderson, who predicts higher fish prices will continue to give cheaper own label the edge next year.

The brands, however, are not giving up so easily and are fighting back with inventive NPD. Birds Eye, for instance, launched Fish Fusions in April - an "innovative range of lightly coated fish infused with complementary flavour combinations," according to Birds Eye general marketing manager for fish, Helen Martin. Fish Fusions is already worth £4.8m and Martin predicts it will be a £7.8m brand by the end of its first year on shelf.

Whether it will be enough to make Fish Fusions the biggest winner across frozen next year remains to be seen. Brands with the potential to pull off a similar manoeuvre to Greggs will have watched its performance closely Ginsters, for instance, has already followed it into Iceland. But with Greggs' exclusive deal with Iceland coming to an end in April, and with major multiples known to be lining up, who would bet against the new kid on the block?
TOP LAUNCH 2012
Ready Baked Jackets McCain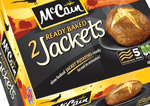 Imagine sitting at a cold, gloomy bus stop, when the aroma of a freshly baked buttery jacket potato wafts into your olfactory passages. You want a jacket potato - and you want it now! Enter McCain's microwavable Ready Baked Jackets, the January launch of which was promoted by 3D smelly-vision screens that even dispensed money-off vouchers. Demand for the five-minute wonders was so overwhelming, McCain was forced to issue an apology to customers unable to buy the product.