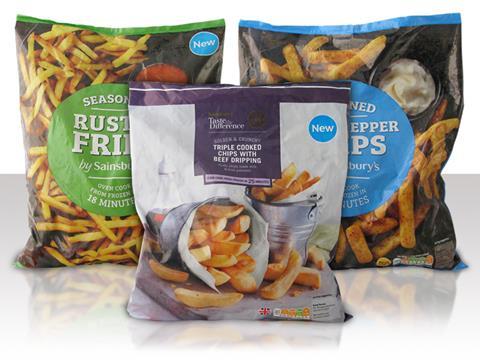 Sainsbury's has revamped its frozen potato range with additions to its own label offerings.

Both premium Taste The Difference and non-premium own label ranges have been updated, with 10 new SKUs in total hitting shelves from the week of 23 October.

Seasoned black pepper chips (£1.25/700g), curly fries (£1.50/700g), lightly spiced fries (£1.25/900g) and rustic fries (£1.25/900g) have been added to Sainsbury's core chips offering, while premium Maris Piper chips (£2.40/1.5kg) and restaurant-style triple-cooked chips in beef dripping (£2.25/900g) have joined the Taste The Difference range.

Meanwhile, the retailer shrunk its straight cut, French fry, crinkle cut and steak cut chip packs from 1.8kg to 1.5kg, reducing the price from £1.80 to £1.50.

New listings for frozen sweet potato wedges (£2.30/500g), potato gratin (£2/400g), mashed potato (£2.00/1.4kg) and rosemary & onion hash browns (£1.50/700g) have also rolled out across Sainsbury's stores nationwide.

Sainsbury's said the changes had come about following a product review.