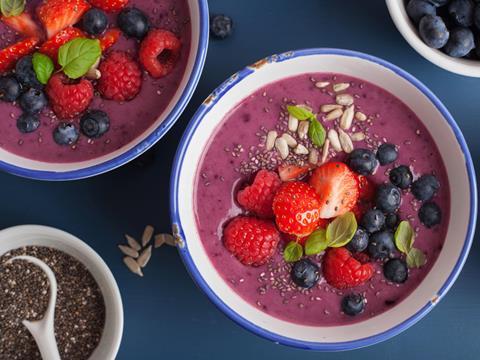 The long, hot summer caused chaos for many fruit & veg producers this year, but it did produce one clear winner: berries.

Brits splashed out an extra £100m on blueberries, strawberries and raspberries in 2018, exclusive data for The Grocer Top Products Survey 2018 reveals, driven by soaring demand for Instagram-friendly 'superfoods' and increased availability of British-grown crops.

Berries had two advantages over other crops during 2018's difficult growing conditions: most are grown under cover and UK growers have invested heavily in heating systems in recent years. This means the traditional British season is now much longer than it used to be.

At the same time, outdoor-grown raspberries benefited from the hot weather, which boosted growth following a sluggish start to a season hampered by the Beast from the East, said Berry Gardens CEO Jacqui Green. It also drove spikes in production, motivating retailers to increase their ranges of berry SKUs to offer tiered packs, in value, premium and 'wonky' varieties.
The UK produces more than 70% of the raspberries and strawberries sold in British supermarkets throughout the year. This increases to 95% self-sufficiency in strawberries and raspberries from April to October, according to trade body British Summer Fruits.

However, blueberries are less established among UK growers, with about 80% coming in from abroad.

"Berries have become so popular as they are now available year-round at good value to the customer," said BSF chairman Nick Marston. Sales had also been boosted due to an increased awareness of their health benefits, he added.

Sales of blueberries rose 13.9% to £349.9m in the past year. Crucially, the increase wasn't due to rising prices - in fact, average shelf price was down, while volumes were up 16.6%.

Strawberries also had a strong year, rising 6.1% to £533.8m. Here, shelf prices were up slightly after major growing regions in Spain suffered heavy rainfall, which damaged crops and reduced yields.

"Punters got into the Wimbledon spirit, splashing out on berries for all occasions," said Marston.
Veg suffers
By contrast, the vegetable sector was forced to contend with one of the worst growing seasons on record.
The hottest summer since 1976 and the ensuing water scarcity was compounded by growers being unable to get crops in the ground early due to the frost, snow and flooding caused by the Beast from the East.
"Bitter cold in March was followed by extreme wet in April, followed by heat and drought over the summer," said British Growers Association CEO Jack Ward.
Carrots and brussels sprouts were among the hardest hit by poor weather conditions, with wholesale prices up 56% and 68% year on year in November [Mintec].
But despite supermarket price rises on some SKUs as growers warned of supply shortages, average prices were actually lower, with carrots and sprouts down 1% and 8.4% respectively year on year.
As a result, sales volumes of veg re-entered growth for the first time since 2016. "The concerns we've had with veg hasn't been sales, it's been getting it on shelves," said Ward, who pointed out consumers would have been shielded from price increases in the immediate aftermath as the "vast majority of supermarkets get their produce on contracts agreed months in advance".
However, low yields of some British veg meant supermarkets may be forced to look abroad in some cases, he warned.
The UK suffered its worst potato harvest since 2012, with yields down 13% against the five-year average.
Potato sales also continued their long-term decline, with supermarket sales falling to £40m this year as two million fewer fresh potato packs passed through the tills [Nielsen]. However, the AHDB attributes this to savvy shoppers buying bigger packs on promotion at lower prices per kg.