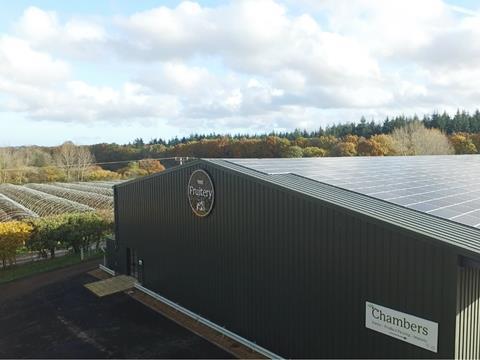 Soft fruit supplier Chambers is planning a new brand to market berry snack packs produced at its new prepared fruit facility.
The Fruitery brand is due to roll out its first product in May – pots of strawberries with grapes and apple slices in a variety of sizes. Packs bearing the brand are due to head into foodservice, while Chambers is mulling the potential of bringing it to retailers in a bid to create value.
Other products it plans to launch under the brand include four and five berry medleys, blueberry snack pots, a strawberry & grape mix, and a strawberry & apple mix, each in a range of sizes.
The berry specialist has claimed an industry first with the prepared division, becoming the first British soft fruit supplier to invest in its own washing, mixing and packing facilities for its produce.
"For us, it means lower costs, lower transit time and the opportunity to open more markets," said commercial director, James Miller. "In food-to-go, retailers do much better in yellow fruit like mango and melon than in berries at the moment, but there's clear demand for more berries and berry medleys."
The site was built in an warehouse Chambers' Kent farm as part of a plan to deliver products with an extended shelf life and capitalise on growing demand. It also invested in a £2m chilled facility, cooling freshly picked fruit in under an hour to ensure produce remains fresher for longer.
"Having the ability to process a ready to eat product on the same site we pick our berries on will benefit shelf life by at least two days," said technical manager Rupert Carter.
The site will be in operation throughout the year, processing produce from the company's farms across the globe outside of the British season.
It follows the announcement that produce giant G's Group would bring its brands to supermarket produce aisles this summer.