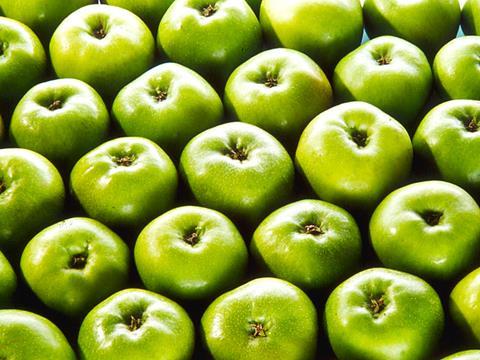 Brits could face a shortage of Bramley apples this summer, with growers blaming poor returns for shrinking supplies.

Supplies of the baking favourite will be about 2,000 tonnes short of what is needed to meet demand, growers have warned, with sales to the mults set to drop to about 14,500 tonnes from 16,500 tonnes last season. Adrian Barlow, CEO of English Apples & Pears, said there had been a "significant" loss of Bramley hectarage in 2015 due to grubbing - where trees are cleared to grow other crops. "That happened because growers are not receiving ­sufficient returns."

Barlow said marketing organisations were working with retailers to make sure tight supplies wouldn't result in empty shelves. Most of the mults should have "just about enough" Bramleys to see them through until next seasons crop, he added, though the recent cold snap was threatening to delay harvests.

"At the very least, this cold weather is going to make the season later," Barlow said. "The first supplies will probably start coming in August, and will be restricted, so the majority of supply won't be ready to harvest until September."

Barlow warned the situation with Bramley apples should serve as a "salutary warning" to retailers over what would happen if returns were not increased.

"Bramley apples are unique to Britain and are an iconic product, with brilliant taste and texture. For cooking, no other variety comes near it," he added.

"We ought to be able to see a return which is sufficient to provide the money for continuous investment and a reasonable standard of living for growers."

Average farmgate prices for culinary apples plummeted 25% in 2014 to 81p/kg to 61p/kg, according to the recent 2014/15 Farm Business Survey from Rural Business Research.