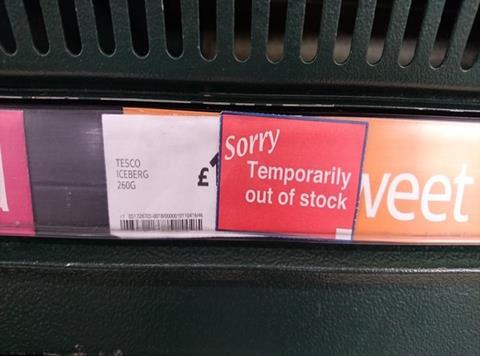 Britain is beset by 'veg panic' in the wake of rationing caused by produce shortages.
Vegetable supplies are 'on the brink', while some black marketeers are flogging lettuce at £4 a pop on a 'salad black market'.
No, this isn't a plot from some weird dystopian thriller, but actual quotes from national newspapers over the past few days as the country comes to terms with 'months of rationing'.
Even the PM has waded into the crisis, with Downing Street apparently 'keeping a watch on what is happening'.
Lettuce, of course, is the latest item of imported veg to be hit by shortages caused by bad weather in Southern Spain, with Tesco, Morrisons and now Asda limiting sales of lettuce in one way or another.
So bad are the shortages, that (in scenes reminiscent of hit TV show The Wire) we've even seen police arresting teenagers in Hove for selling illicit lettuce to desperate vegans!
Sorry, that last one was actually fake news – posted on spoof website The Brighton Bulletin – but you get my point. This shortage of fresh produce in UK supermarkets has really captured the imagination and given newspaper headline writers an opportunity to flex their punning chops with beauties such as 'tip of the iceberg' and 'lettuce pray'.
Here at The Grocer HQ we're not immune to hysteria either. That's why I'm writing this blog (and appearing in this video). But let's take a deep breath for a minute, shall we?
The story – first broken on Friday – that supermarkets are rationing our favourite crispy salad leaf, clearly states that retailers have restricted sales to two, three or (in Asda's case) six lettuces per person. Similarly, Morrisons has slapped a ration of three heads of broccoli per shopping trip.
It hardly ranks alongside the food rationing brought in during the Second World War, or the bread queues that foresaw the end of the Soviet Union. Instead, it is designed to deter those who would normally buy their veg wholesale from seeking out a cheaper deal in supermarkets.
With wholesale veg prices soaring due to the Spanish shortages, your local Indian restaurant might struggle to supply that soggy bag of salad with your takeaway curry, but it's unlikely everyday consumers will face any hardship. After all, who buys that much lettuce in one supermarket visit?
Perhaps of greater concern are suggestions that veg supplies are plentiful in Spanish supermarkets and that the UK is becoming a less attractive market for Spanish growers due to the weak pound and our impending hard Brexit.
I'm off to buy a greenhouse.