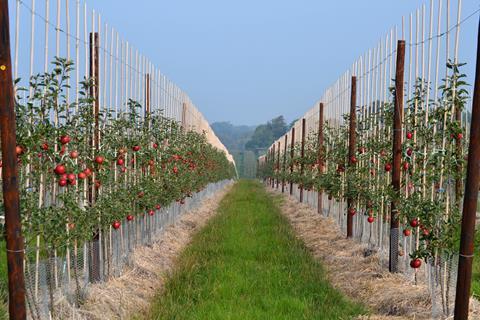 Supplies of British apples and pears could be tight this year, following the "unprecedented" challenges posed by volatile weather, the coronavirus crisis and labour issues.
Topfruit growers are expecting a lower than average crop from this year's harvest following a "testing" growing season, according to British Apples & Pears chair Ali Capper, who warned many were "not expecting a bumper crop".
A clearer picture of the sector's overall yield would become more apparent within the next few weeks, she added.
But last autumn's weather – the fifth wettest and warmest on record – followed by more rain during the winter months contributed to a phenomenon known as "wet feet". This led to increased stress on trees and their fruit, and even some tree deaths.
Difficult growing conditions were further exacerbated by the UK's sunniest ever spring, Capper added, followed by late frosts in mid-May and hailstorms in the south east of England.
Growers also had to contend with the added cost and complexity of dealing with the coronavirus crisis and the need to apply social distancing measures in packhouses, while attracting enough labour to harvest the crop also remained an issue. "It's been a pretty challenging year," she added.
"We've seen an unprecedented application rate from British workers following the horticulture sector's recruitment campaign. But it has only resulted in about 5% to 7% of those applicants ending up in a job."
This suggested prospective UK workers may not have fully understood the flexibility and working hours involved, or the need to commit to work for the full harvest period, Capper said.
However, an even bigger challenge faced the entire growing sector over the "ambiguity" over who would harvest crops in 2021, she warned.
The horticulture sector needed the government to pay attention to the evidence for a comprehensive seasonal workers scheme that would fully cover its 70,000 annual vacancies, she urged.
Such a scheme would not only provide certainty for the coming year, it would also allow continued investment in the sector.
"It feels like we are having positive dialogue with the government, but the lack of certainty is making the sector very anxious. We need to recruit this autumn for next year."