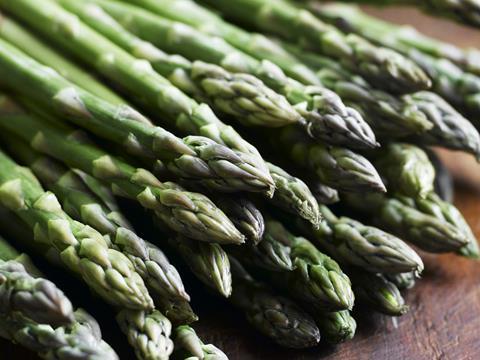 Retailers may have to wait longer for British asparagus this spring - the recent cold snap is threatening to delay the crop, growers warn.
Unseasonably warm weather at the end of last year caused some British outdoor-grown spears to sprout as early as January, leading to predictions of an early start to the season. But colder weather over the past few months means the season could now run late.
"The very mild November and December have given way to a chillier January, February and March, which means the crop isn't quite sure what's going on," said Chris Chinn, chair of the British Asparagus Growers' Association. "Amazingly, we think it may be a little late this year, but it will come in its own good time."
Chinn said it was too early to tell whether the UK would enjoy the same bumper crop of outdoor grown asparagus as last year. "Last year's predictions were based on a really warm, long summer in 2014, meaning that the crop had heaps of energy stored in the crowns," he said. "2015's summer wasn't as warm so we can't make similar predictions, especially as at the moment there isn't anything to see above the earth."
In a bid to raise the profile of British asparagus, Chinn and other asparagus growers are running a crowdfunding campaign with the aim of raising £7,000 to host a five-course asparagus-themed dinner and event in Bristol.
The British Asparagus Feast would be held on Thursday 5 May at Yurt Lush, with top Bristol chefs cooking for 90 asparagus fans.