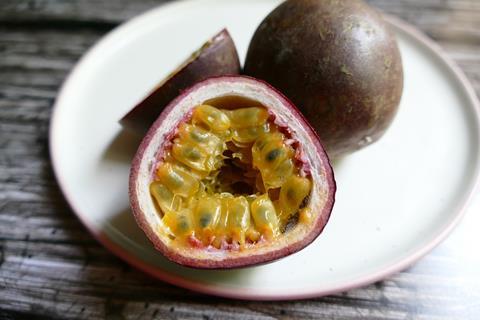 Brits could be tucking into UK-grown passion fruit by September, a business scrambling to plug the Brexit import gap has claimed.
Newly-formed company UK Tropical Fruits is seeking £100k in funding to grow passion fruit, tamarillos, dragon fruit and giant strawberries in glasshouses on the south coast of England. The business is crowdfunding on Indiegogo, in exchange for 20% equity, though the campaign is yet to attract any investment a week after going live.
Former automotive industry executive and founder Tony Peers told The Grocer he had spotted a gap in the market to bypass potential import tariffs resulting from the loss of EU bilateral trade agreements and most favoured nation status.
Peers already has cuttings of passion fruit, which if cultivated correctly could be commercially available by autumn this year, he told The Grocer. He said the business would be the first domestic company to supply tropical fruits, growing up to 600 passionfruit plants per acre in its first year. Passion fruit is usually imported from South and Central America, Asia and Africa.
"We are looking to take on a 2.8 acre glasshouse complex in Chichester, as well as three acres of grassland," he said. "Passion fruit will be the first product we harvest as its high-value, high-volume nature will maximise revenue during expansion."
The company has predicted it would be able to supply passion fruit at £3.50/kg and strawberries at £9/kg, in line with current wholesale prices, said Peers. The figures could undercut foreign imports if tariffs were to come into force, he added.
"We've already had significant interest from the high end wholesale markets in London, because being just a couple of hours away, we could deliver the freshest produce."
It was feasible to consider growing exotic fruits in the UK, said industry experts. However, commercialising endeavours that have seen amateur growers cultivate pineapples and bananas in their back gardens could be difficult to scale up, they warned.
"A no-deal Brexit presents a couple of big risks for imports," said head of strategic insight at the Agriculture & Horticulture Development Board, David Swales.
"Most economists seem to be predicting a fall in the value of the pound, which would push up import prices in sterling. Secondly, there are risks around tariffs, which are typically in the 10% to 15% range for many fruits. If our existing supplies are from within the EU, they could get more expensive."