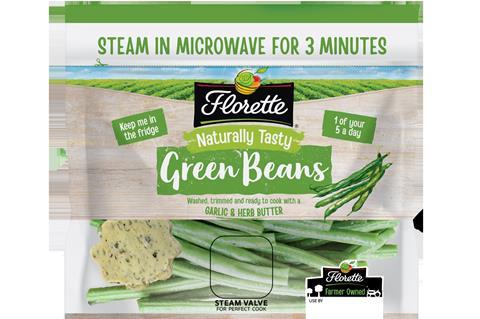 Bagged salad giant Florette has taken its first steps into the cookable prepared veg category with the launch of a microwaveable green beans pouch.
The pouch, part of the brand's new 'Naturally Tasty' range, contains washed and trimmed green beans along with a knob of garlic and herb butter, and is available from convenience retailer Spar now (rsp: £1.99/170g).
The beans could be cooked in three minutes, while the pouch had a steam valve on the front of pack "to ensure perfectly cooked beans every time", Florette said.
The NPD "built on the success" of Florette's ready-to-eat beetroot resealable fridge packs, which it launched back in 2017, and represented the brand's first foray out of the bagged salad category.
It said the SKU had brought in 1.1 million new shoppers to the brand with value sales of £2.6m last year.
"At Florette, we recognise the growing sentiment from consumers towards convenience when cooking and preparing meals, while still remaining healthy and nutritious," said marketing director John Armstrong.
"As a brand our bagged salads will continue to be our main focus, but we are also looking at ways we can make incremental gains, and the prepared vegetable category is one such area we've identified where there is strong consumer demand that we can utilise our expert network to meet."