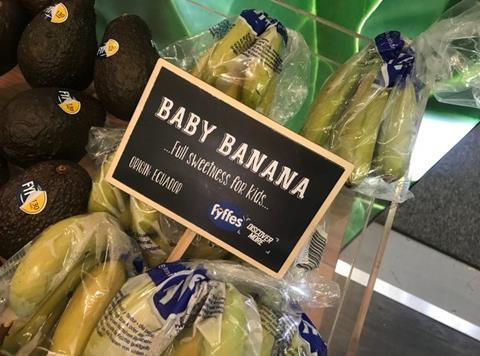 If you're among those who think the humble plum can't be improved upon, read on.
This week's Fruit Logistica conference in Berlin delivered innovation in spades. Some focused on going plastic-free and some pushed boundaries, but there are a host of undiscovered fruits and veg clamouring for a foothold in British produce aisles.
Suppliers gathered for three days to display their wares to thousands of visitors. Here are The Grocer's picks of the top trends on offer:
Giant citrus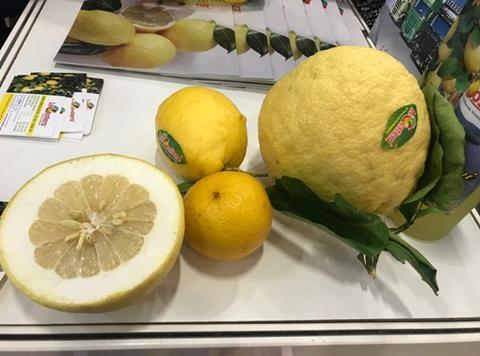 Growers have spent years breeding ever smaller fruit and veg to entice consumers craving more convenience and less waste.
But now, the trend to forgo meat has lent itself to the possibility fruit and veg could take steak's place. While it's no secret veg growers have been competing to cultivate the biggest marrow for years, fruit is getting in on the act.
Stand after stand featured the red pomelo – the world's biggest citrus fruit, comfortably the size and weight of a large orange. Meanwhile, lemon specialist La Costiera is hoping the bianchetto lemon will catch on in foodservice. The mega-lemon's taste is less sour than the traditional lemon, tasting like a cross between a lemon and an orange, and is being touted as a meat alternative, adding a bit of bulk and bite to a salad.
Banana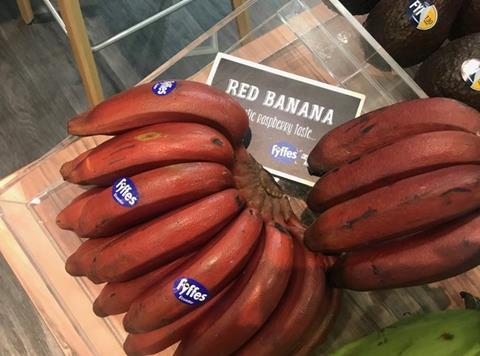 A banana is a banana and that's that, right? Wrong. Not everywhere is fruit upscaling. Baby bananas, or 'bananitos', are soaring in popularity as a children-friendly option across Europe and the US, according to Fyffes.
Meanwhile, the produce giant has ramped up production of its red bananas in preparation to increase the number of markets it's offered in. Tasting reminiscent of raspberries, the red banana is seen as a 'step up' from yellow, but presents challenges for retailers and consumers as the skin doesn't change colour as it ripens.
Sadly, as a variety of the ubiquitous Cavendish banana, they're not immune to the disease which has been ravaging bananas globally.
Fruits that taste like other fruits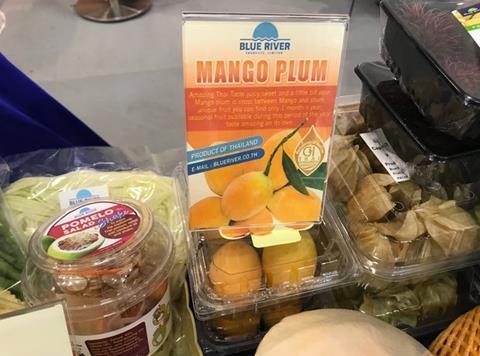 Something the above two points have in common is that the taste of the fruit is very different to what we know, but still distinctly fruity.
That's what M&S hoped for when it debuted the mango-plum crossbreed in 2015. It didn't quite catch on at the time, but it's back again, with suppliers hoping innovative chefs will revive the British public's interest in the innovative product.
Peppers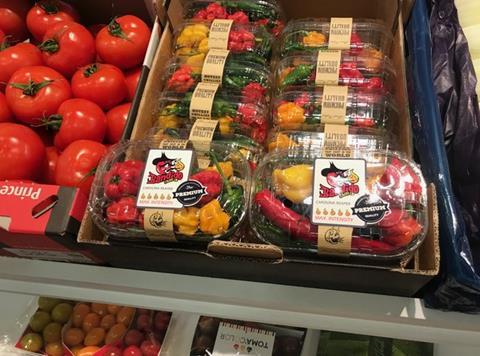 Consumers are more adventurous than ever, and the range of world foods available means many are willing to dip their toes into competition-level spice. The world's hottest chilli, the Carolina Reaper, is now readily available in a handy punnet alongside other eye-watering varieties. Suppliers hope the advent of Instagram chefs has given people the knowhow to pop a Reaper in pasta sauce without a visit to their local A&E.
Snacking formats
G's Fresh today announced it was bringing brands into the UK's produce aisles – an area famously dominated by own label. As G's sees it, the ideal place to add value is in snacking, because far from eating three square meals, Brits are now likely to eat smaller portions but up to seven times a day.
Its new Love Fresh range is veg, but with Philadelphia cheese for added indulgence. On the continent, there is a chance the new Love Fresh snacking lines could sit in the dairy fixture, it said, because retailers are hoping to take healthy eating out of fresh produce.
Jackfruit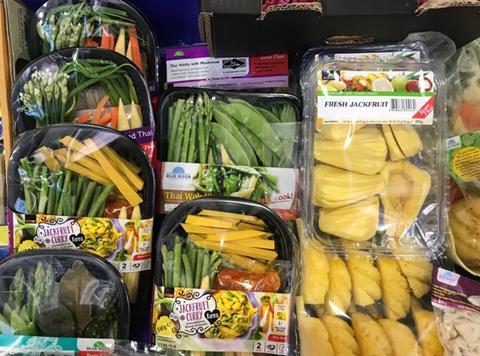 Another winner in the meat-free scene is the jackfruit. Now commonplace as a substitute for pulled pork in the UK's raft of vegan NPD, Thai suppliers think the time is ripe for another attempt to bring fresh jackfruit to produce aisles.
Sainsbury's attempted it back in the mid-noughties but as a relative unknown, and with the fruit easily reaching more than 5kg each, it didn't go down well with consumers. Now the public is slightly more au fait with the jackfruit, it need no longer be confined to cans but available fresh in snack pots.
Mushrooms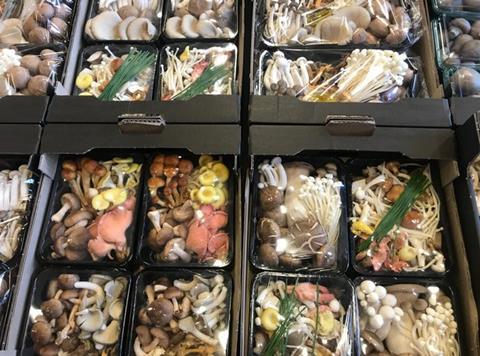 Like jackfruit, the mushroom is benefiting from the public's desire for meat alternatives. More varieties of fungi – the most versatile products on earth, according to Tesco's director of plant-based innovation Derek Sarno – are in demand due to the desire to mash them up and use them as replacements for sausages, or grill them in lieu of 8oz of prime beef for a burger.