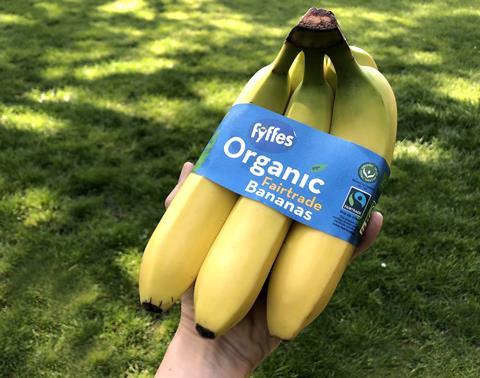 Tropical fruit giant Fyffes has pledged to reduce its CO2 emissions by 25% by 2025 as part of a raft of commitments published in its first-ever sustainability report.
The supplier said the reduction would align it to the Science-Based Target Initiative's aim to limit emission increases to 1.5°C of pre-industrial levels by 2025, as laid out in the Paris Climate Agreement.
Fyffes said it would reduce emissions throughout its supply chain by increasing efficiency in its use of inputs and outputs, including the implementation of sustainable alternatives.
It also pledged to protect, restore, or enhance soil fertility, reduce water use, prevent water waste and enhance wastewater quality. All its packaging would be compostable, recyclable, or reusable by 2025, it added.
Other targets highlighted in the sustainability report included a commitment to reduce food loss by 80% in all its operations by 2030, to provide five million healthy meals to people in vulnerable groups by 2025 and to educate three million people on healthy eating habits and food waste minimisation by 2025.
Elsewhere, Fyffes said it was targeting no work-related fatalities or severe work-related injuries by 2025, with 100% of Fyffes workers and supply chain staff to be trained on human rights by 2030, and 100% of managers and employees by 2025.
The Ireland-based business will also ensure 100% of its own sites in Latin America will benefit from gender equality programmes by 2025 and 50% of suppliers by 2030, while it is planning to eradicate gender the pay gap in its operations by 2030.
Work would also be undertaken to ensure 100% of Fyffes 'neighbouring' communities were engaged in resilient socio-economic community projects by 2030, while the company intended to improve the resilience of 2,000 of its smallholders to climate change across key production countries in Latin America with "specific capacity building programmes" by 2030.
In addition to the targets outlined in its report, Fyffes said it would "identify all living wage gaps for our own operations and most of our suppliers by 2022".
"Recent global events have brought into clear focus the increasing need for companies to contribute to a sustainable future and I am confident Fyffes is set up to meet those challenges thanks to the commitment to our sustainability goals," said Fyffes global director of sustainability Julie Cournoyer.