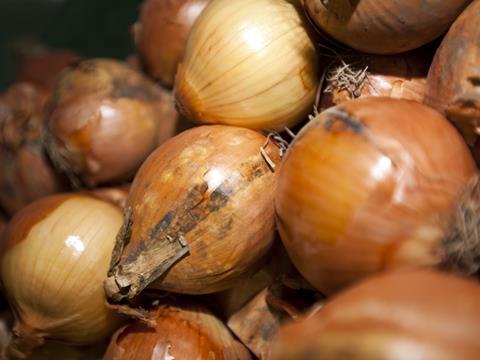 This year's onion yields fell below growers' worst predictions after a succession of poor weather conditions hammered the crop.
The British Onion Producers' Association (BOPA) had previously put estimates at 25% below last year's volumes, as chairman Tim Elcombe warned in July that the number of onions as well as the size of the remainder were likely to be reduced.
This was still the case, said Elcombe at a BOPA meeting last week. But having come to the end of the season, the shortfall has now been confirmed to be closer to 40%. It comes the average price soared in October, with wholesale prices up 20.9% on the same period in 2017 [Mintec].
However, growers said many retailers had relaxed size specifications to ensure maximum usage from the edible British crop.
"The prolonged hot and dry period over the summer put onion crops under extreme stress and adversely impacted the growing potential," he said. "Despite British growers' best efforts to minimise the impact through round-the-clock irrigation, the onion crop has been severely affected."
The situation was further compounded by the 'Beast from the East' in spring, which "caused havoc with plantings and drillings resulting in many crops being planted up to six weeks late", he added.
With a 40% shortfall apparent as the harvest came to an end, consumers could expect to see more imports from the southern hemisphere until the beginning of the next harvest in summer 2019 after growers on the continent also struggled. As a result, UK and EU stocks were expected to run low by early spring, forcing importers to look further afield, said BOPA.