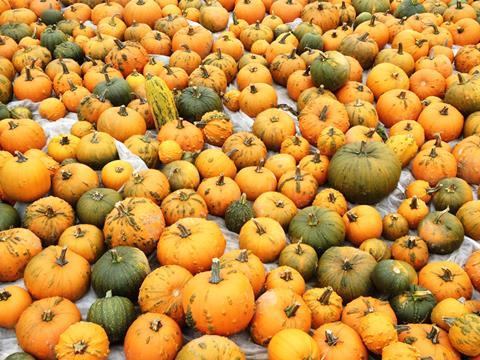 As this year's Halloween approaches, UK growers have warned that a wetter than usual summer has had a significant impact on pumpkin quality for the 2017 harvest.

Although pumpkins have swelled to larger sizes than usual, heavy rainfall has caused a watery texture that could not be remedied during the curing process, says Keston Williams, technical director at grower Barfoots.

Suppliers had to contend with above average rain during the critical July and August period. These sustained periods of wet weather at key stages of growth have increased incidents of rot, influencing yields, says Andy Weir, head of marketing at fruit & veg wholesaler Reynolds.

The rot, triggered by pumpkins sitting atop wet soil, has also meant skin finish is not as robust as last year and colour will be affected in some instances, he adds. This has left some growers without retail contracts in place struggling to shift stock.

One supplier told The Grocer it is preparing to "absorb losses" as it faces being left with a surplus of green pumpkins as sunlight levels around 5% below the norm meant some crops struggled to reach maturity.

Growers insist they are still on track to fulfil demand in the UK market, but warn the poor yields this year mean there is little excess pumpkin for export to Europe - an increasingly important market with sterling so weak.

However, not everyone has struggled. Asda reported last month it was expecting a bumper crop, due to early planting. The retailer expects Halloween sales to grow 61% compared with two years ago.

British consumers spent £191m on Halloween in 2016, a 3% decrease on 2015. Despite the fall, pumpkin sales continued to rise, with retailers recording an 8% spike in pumpkin volume sales [Kantar 5 w/e 5 November 2016].