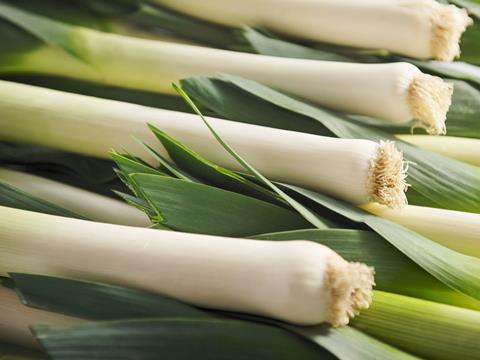 The future of the British leek industry is in danger after a "perfect storm" of adverse weather and uncertainty around Brexit slashed grower margins.

Shoppers were likely to see leek shortages into the new year as low volumes in the UK and across Europe began to bite, warned the Leek Growers' Association. In the meantime, leeks on shelves were likely to be smaller and more variable than shoppers were used to.

Devaluation of the pound left growers struggling to make ends meet after yields fell by 23% - equal to more than 8,000 tonnes - compared with the 2017 harvest, said chairman of the Leek Growers' Association, Tim Casey. The combination had left growers in "real financial difficulty", he said, calling for more support from customers.

Labour shortages compounded problems for the industry, with fears around Brexit and a weaker pound driving away seasonal labour. Meanwhile, the summer's heatwave has left leeks smaller than usual, forcing growers to reduce and delay deliveries in a bid to give the crop more time to grow, he added.
"Leek growing and harvesting has never been easy, but we have never seen a year like this one, our leek crops have really struggled. They had delayed establishment with the cold wet spring and then the extreme hot, dry conditions this summer," said Casey.

"And to cap it all we still have very dry soils so the usual autumn growth is just not happening. Production costs are high due to the lower yields and the fact that we are working with smaller leeks."

The UK normally imported in the region of 30% of its leeks from the EU throughout the year, but European growers had also suffered shortages after they were hit by the same weather conditions as British growers, Casey added.

"In the past two years margins in leek growing have been severely reduced and growers are faced with real financial difficulty. Even with the relaxation on specifications to maximise yields, without further support from our customers this perfect storm could have a devastating effect on leek growing in this country."