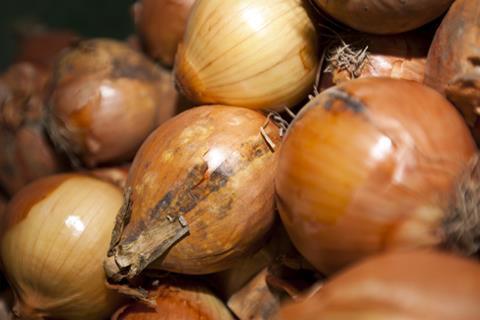 Sales of onions and leeks have soared during the latest Covid-19 lockdown, according to the British Growers Association.
Volume sales of onions are up 25% year on year, while leeks have seen a 15% rise in sales, according to the trade body.
The increases were primarily attributed to the lockdown trend of scratch-cooking, with changes in consumption habits, such as flexitarianism, also suggested to be behind the rises.
Other veg producers have also been enjoying greater demand, including brassica and carrot growers.
"It's great to see this surge in demand. We know as a nation we don't have enough veg in our diet and while part of the success is attributable to lockdown," said BGA CEO Jack Ward. "There is a growing interest in healthy eating and seasonal produce."
He added: "The UK had a proud tradition of producing seasonal veg throughout the year and the increased consumption has brought a welcome counter to the problems of coping with the Covid pandemic."
British vegetable producers have sounded a note of warning, however, as the sales boost combined with difficult growing conditions could lead to more imported product than usual.
The Leek Growers Association estimated a 10-14% shortfall in domestic supply during April and May due to the drought conditions seen last spring. British carrot and brassica producers have reported similar issues.