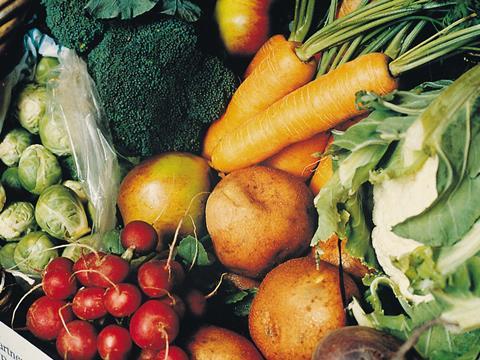 Sales of organic veg are back in growth, thanks to improved UK household incomes and growing consumer interest in health.

While year to date value sales for organic veg to 19 July are down by 3.6%, sales have picked up in recent weeks, rising by 3.8% for the four weeks to 18 July, (compared to a 3.5% fall in sales for non-organic veg), and by 10.1% when analysing sales over a 12 week period to 19 July [Nielsen].

The boom could be traced back to the publication of a scientific study from Newcastle University last July, which concluded organic fruit and veg was higher in antioxidants than standard fresh produce, McDermott claimed.

"We have seen a steady turnaround in the fortunes of produce since the research came out," she said. "It started as a small trickle and has gradually built up as people have become more aware of the pesticide issue."

Sales for organic fruit are also up and outstripping non-organic fruit sales, jumping by 12.5% for the year to 19 July.

Mark Cheadle, category manager at Producer World, attributed the growth to consumer interest in health as well as a recovery in household incomes.

"There has been a rise in health as a reason for consuming food," he said.

He added research suggested 48% of shoppers had bought organic - but did so less frequently than standard fruit and veg. "The opportunity is not convincing people to try organic in the first place, but to buy more of it," he said.

Frank Robinson, group sales & marketing director at Produce World, said retailers were showing interest in extending their organic produce range because it offered a much better margin than traditional fruit and veg.

"They see it as an opportunity to premiumise their offer, while at the same time satisfying demand from customers," he said.

According to the Soil Association, the growth in organic fruit and veg reflects wider growth in the organic category - with more than 1,000 new organic products registered with Soil Association Certification this year so far.

"We have seen everything from organic vegetable crackers to nut butters, seaweed, cereals, tea, coffee and coconut products hitting shelves," said McDermott.

She put the increase in organic innovation down to new food trends and the growth of organic among Millennials, who are "interested in their food and where it is coming from."

The latest 52-week data shows value sales for the total organic food category are now in 3.1% growth, compared with non-organic which is down by 1.1% [Nielsen 52 w/e 18 July].