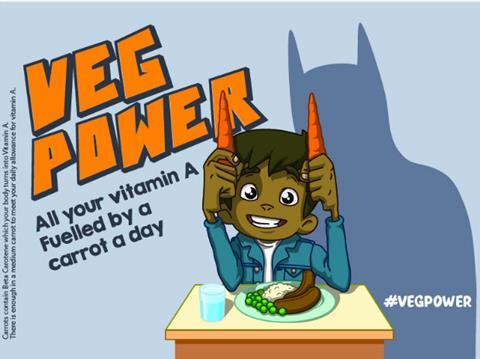 Peas Please, the Food Foundation-led initiative that aims to get the nation eating more veg, has launched a campaign to start up a dedicated vegetable advertising fund.

The campaign's organisers have called for a pooled fund, with contributions from retailers, producers and government, to devise generic marketing that would see veg compete with branded chocolates and fast food outlets.

The move comes in response to what the Food Foundation calls the nation's "diet crisis", which it says has been exacerbated by just 5% of the £296.6m spent pushing fruit, veg, confectionery, snacks and soft drinks being used to promote vegetables in 2015 [Nielsen AdDynamix].

TV chefs Jamie Oliver and Hugh Fearnley-Whittingstall have backed the calls and joined forces with the Peas Please initiative, which is also supported by organisations such as the WWF, Food Cardiff and Nourish Scotland.

"Unlike all the junk food and confectionery we are relentlessly sold every day, our delicious vegetables are not owned by massive global brands so they don't get the marketing and advertising clout they deserve," said Fearnley-Whittingstall.

"Having a pooled marketing budget from retailers, producers and government is a brilliant idea - it means we can get top agencies behind the marketing of veg, which will drive up demand and boost consumption."

To mark the launch of its campaign, Peas Please this week released an advert celebrating vegetables drawnfrom a competition last year, which received more than 60 entries from individuals, advertising and design agencies. Advertising industry executives and children from Wales, Scotland and England chose the winner, which was then designed by agency Ifour.

The winning advert has now been displayed in more than 5,000 locations across the UK, including all Co-op stores, as street art in Cardiff, and as a projection on to City Chambers in Edinburgh. The ad aims to reach out to children and adults as a fun approach to promoting vegetable consumption, said the Food Foundation.

"It is great to see so much support calling for more veg advertising. Currently 95.5% of 11 to 16-year-olds aren't eating enough veg and advertising is an important tool to help tackle this issue," said Anna Taylor, executive director of the Food Foundation.
The governance of such a fund is yet to be confirmed, with the focus at the moment to capitalise on the momentum and gauge public opinion, said Taylor. And so far, both public opinion and that of stakeholders has led to "warm conversations", she added, with the next stage to target high profile retailers, suppliers and government officials to contribute to a proof of concept in collaboration with advertising executives who lent their support to the campaign.