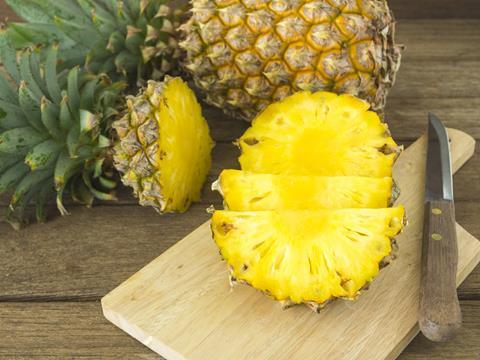 Supermarket demand for pineapple is on the rise, with sales of fresh whole pineapples up 15% at Tesco.

Demand for the fruit hit an all-time high over the past 12 months, with tinned and juice sales also riding the wave of pineapple's newfound popularity, said Tesco.

It claimed consumers were waking up to the possibility of using the fruit as an ingredient for main meals in addition to its traditional use in desserts.

Snack packs led the way, with pre-cut pineapple fingers seeing 30% sales growth in Tesco over the past year, while pineapple juices soared more than 20%. The increased usage occasions also saw tinned chunks sales rise 5%, while Hawaiian pizzas experienced a 15% surge in popularity.

Tesco said it had responded to the boom by adding more convenience varieties of the fruit, including slices. It also drove sales by advertising pineapples as an alternative to pumpkins for carving last Halloween.

"Pineapples have become the fruit taste of the moment and could soon rival the avocado as a once-niche fruit suddenly gaining mainstream popularity," said Tesco fresh pineapple buyer Morgan Jaquemet. "In the last few years we have seen demand jump because of the fruit's rising popularity as a versatile and healthy food - it's even made its way on to the barbecue in the summer months now.

"We've been focused on making it easy for our customers to enjoy this fruit, and have introduced a range of prepared snacking pineapple cut into finger-sized shapes, which are popular as a healthy lunchbox treat for schoolkids."

Costa Rica, the leading producer of pineapples for the EU and US markets, has increased its output by a tenth in the past two years.