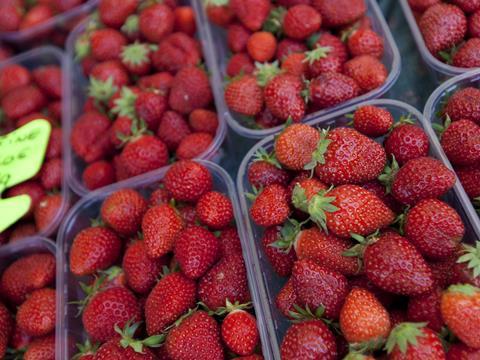 In peak strawberry season during Wimbledon, value sales grew 14.8% as retailers cut back on discounts, while volume sales rose 2.7%, attributed in part to shoppers flocking to buy ingredients for barbecue season cocktails [Kantar Worldpanel, 4 w/e 15 July 2018].

However, soaring sales could be curbed over the coming months due to shortages of the fruit caused by difficult growing conditions and continuing problems attracting labour, said British Summer Fruits chairman Nick Marston.

In June, The Grocer revealed strawberry bargains could become a distant memory by 2019 as labour shortages were "exacerbated by Brexit", causing spikes in the cost of production.

Those predictions that cut-price but super-sized punnets would be phased out came true ahead of time, as the dry June added to the woes of growers and left yields for the month significantly down on 2017, Marston said. Despite many growers investing in more intensive growing techniques "the flush that usually comes in at the end of May and start of June didn't come", he said. "There was no glut."

It comes as growers in Scotland complained of "hundreds of thousands of pounds" worth of losses as their crops lay rotting in the ground amid a dearth of seasonal labour. "Growers have been told shortages could get worse as we get closer to autumn, especially by agencies who are running extremely low on seasonal workers," warned Marston.