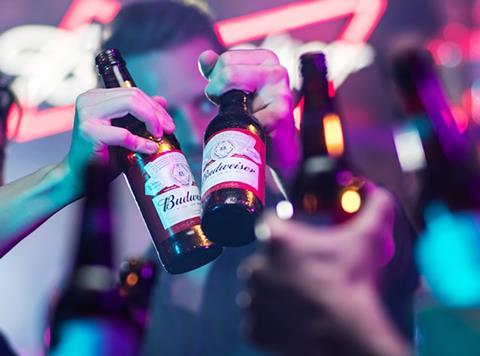 Top story
AB InBev (ABI) has announced this morning it is exploring a potential minority stake listing of its Asia Pacific (APAC) business on the Hong Kong Stock Exchange.
ABInBev said the IPO would create "an APAC champion" in the consumer goods space.
"Furthermore, our superior portfolio of brands and leadership position in the beer industry provide an attractive platform for potential M&A in the region," the brewing giant stated.
"We appreciate that a minority stake listing would accelerate our deleveraging path. Nonetheless, our commitment to reach a net debt to EBITDA ratio below 4x by the end of 2020 is not dependent on the completion of such a transaction," ABInBev said.
Proceeding with a listing would depend on several factors, including potential valuation and prevailing market conditions, the company said.
The announcement came with the unveiling of the group's first-quarter results. It said it had a strong start to 2019 as it accelerated its momentum from the final quarter of 2018 into what was a "solid" first-quarter performance.
Revenue climbed 5.9% to $12.6bn, driven by volume growth of 1.3%. EBITDA grew 8.2% in the first quarter to just under $5bn with margin expansion of 86bps to 39.6%. It said this was driven by operating leverage from the solid top-line result as well as favourable brand mix, ongoing cost discipline and continued synergies from the SABMiller combination, partially offset by significant commodity and transactional currency headwinds.
The UK continued to deliver volume growth and market share gains, with both Budweiser and Bud Light growing double digits.
Brazil, China, the US, Europe, Colombia and Nigeria drove the top-line result, with especially strong volume growth from Brazil, Nigeria, Europe, Peru and Columbia.
This was partially offset by softer volume results in markets such as South Africa and Argentina, where consumers remained under pressure because of challenging macroeconomic conditions.
The company said the results were also held back by the later timing of the Easter holiday in markets for which this was an important consumption occasion, including the US, Mexico, Colombia, South Africa and Australia.
It said it expected this impact to normalise on a half year basis.
Brazil, which led the way in volume growth this quarter, with both its beer and non-beer businesses growing by double digits, outperformed the industry.
"We grew volume across all segments of our portfolio, and we have already seen meaningful contributions from recent innovations and line extensions including Skol Puro Malte and our affordable beers brewed with local ingredients: Nossa and Magnífica," the company said.
"We also continued to gain share in the growing premium segment, reinforcing our belief that growth in this segment will be achieved through a superior portfolio of brands, not just in Brazil but globally."
It continued to improve its performance in the US as a result of an evolved commercial strategy focused on premiumisation and innovation.
"Leveraging the momentum built throughout last year, top-line growth in 1Q19 was supported by our best market share trend performance in the past 25 quarters with an estimated market share decline of only 10 bps."
Globally, top-line and bottom line performance continued to benefit from positive brand mix driven by the growth of its "unparalleled" portfolio of premium brands.
Its global brands grew revenues by 8.5% and by 14% outside of their home markets, while its "High End Company" grew revenues by 19.9%, ABInBev said.
The group continued to make good progress toward its "ambitious" 2025 sustainability goals launched in March 2018, reducing carbon emission across its value chain by 4.5% over the last year.
"We successfully tested electric vehicles to be added to our fleets in Mexico and Colombia and ordered up to 800 Nikola trucks in the US. This brings us closer to our global goal of reducing carbon emissions by 25% across our entire value chain by 2025, which is aligned to the UN Sustainable Development Goal for Climate Action.
"We continue to believe that our strong commercial plans, best-in-class portfolio of brands, diverse geographic footprint, unparalleled operating efficiency and strong pipeline of committed and talented people position us to continue delivering strong results in 2019 and beyond.
"We remain committed to leveraging this momentum to lead the global beer category while positioning ourselves to deliver sustainable, long-term growth," the statement said.
Morning update
Treatt (TET) the manufacturer and supplier of innovative ingredient solutions for the flavour, fragrance, beverage and consumer products industries, announced half-year adjusted pre-tax profit climbed 7.3% to £6.2m on revenue up 5.7% to £56.6m.
Adjusted operating profit climbed 3.8% to £6.3m in the period ended 31 March.
Gross profit margin increased 140bps to 25% in the half-year compared with the same period the previous year.
All figures exclude discontinued operations. Adjusted figured excluded exceptional costs of £200,000.
Treatt said the fruit and vegetables, and tea and sugar reduction categories had performed strongly while the citrus core product category continued to lead the contribution to revenue despite cyclical falls in raw material prices.
It said ongoing investment in the group's capacity would deliver long-term growth.
Group chief executive Daemmon Reeve, said: "Once again it is pleasing to report encouraging strategic progress. All categories have performed well despite cyclical weakness in some citrus raw material markets with particularly encouraging growth in our higher margin tea, sugar reduction and fruit and vegetable categories supporting the strong trend towards better for you and clean label, more natural beverages."
The past six months had seen much work across the business strengthening its teams, building and planning infrastructure to drive future growth, establishing Treatt in new growth markets and expanding its offer in established markets, he said.
"These actions were achieved while improving profitability and margins and gave the board confidence the business was well placed to deliver on its strategic objectives over the coming years.
"With order books comfortably up on a year ago, we expect the encouraging performance in H1 to continue into H2. Whilst there is still much to do to complete the year the board remains confident that the group will meet its expectations for the financial year ending 30 September 2019," said Reeve.
Distil (DIS) reported final quarter trading in line with its expectations. Unaudited year-on-year fourth-quarter revenues between January and March fell 33%. Volumes dipped 32%.
The owner of premium drinks brands RedLeg Spiced Rum, Blackwoods Gin and Vodka, Blavod Black Vodka, Jago's Cream Liqueur and Diva Vodka, said the dip reflected the extra "stock build" by distributors during the third quarter.
It said this was a result of the earlier phasing of its promotional activities, the sales benefits of which were seen in the third quarter – the company's major trading period.
Distil continued to invest in in the marketing of its brands, increasing year-on-year spend by 10% during the quarter.
Sales from its distributors to the trade continued to grow with year-on-year volumes up 10%.
Don Goulding, executive chairman, said: "Our fourth quarter result was in line with expectations following a very strong third quarter performance where we increased marketing activity and shipments to our distributors.
"We anticipate full year performance for the year ended 31 March 2019 to be in line with current market expectations and look forward to reporting our full year preliminary results in June 2019.
The company expected continued growth in its core rum and gin markets during 2019 and it would continue to invest in its brand marketing to grow its market share.
"In March we announced the launch of our new RedLeg variant, sales of which commence in the on-trade in early June," Goulding said.
Devro (DVO) has appointed Steve Good non-executive director, chairman of the nomination committee and a member of the executive directors' remuneration committee.
The appointments take effect from 1 June.
Good has held various leadership roles in international businesses during his earlier executive career, including group chief executive at Low & Bonar.
His appointment will see non-executive director Paul Withers relinquish his interim chairman role.
Withers will continue to be senior independent director and chair of the executive directors' remuneration committee after 1 June.
On the markets this morning, the FTSE 100 opened down 0.4% to 7325.1pts.
Early risers include PureCircle (PURE), up 1.9% at 307.3p, Majestic Wine (WINE), up 1.3% at 268.5p and PZ Cussons (PZC), up 1% at 203p.
Fallers so far today include Stock Spirits Group (STCK), down 2.1% at 229.5p, Devro fell 1.8% to 200.9p, Premier Foods (PFD), off 1.5% at 35.4p, DS Smith (SMDS), down 1.5% at 356.5p and Applegreen (APGN), slipped 1.5% to 456p.
This Week in the City
Although it's a short week after the May Bank Holiday there are still plenty of scheduled updates in the diary.
The British Retail Consortium-KPMG survey for April is scheduled tomorrow, while UK-listed tobacco giant Imperial Brands (IMB) announces its interims. GlaxoSmithKline (GSK) will also hold its AGM.
Morrisons (MRW) announces its first-quarter update on Thursday, the same day as Reckitt Benckiser Group (RB) has its AGM scheduled.
In the US, tomorrow will bring a first quarter update from Ahold Delhaize. while Hain Celestial issues its third quarter numbers.
Also this week, The Grocer Price Index for April will be released on Friday, while UK first quarter GDP numbers are out on Friday.