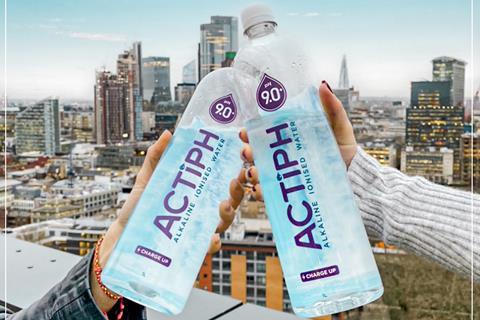 Fast-growing alkaline bottled water brand Actiph has raised £1.2m to underpin its international expansion plans and further boost its UK distribution.
The London-based startup, founded by seven-time Guinness World Record rower Jamie Douglas-Hamilton, raised the cash via a crowdfunding campaign on Crowdcube, having exceeded its initial target of £500k.
The campaign, which gave it a pre-money valuation of £7m, was backed by 831 individual investors.
Actiph is on course to hit sales of around £1.4m this year, having won listings with Tesco, Sainsbury's and Ocado. It is targeting global revenues of £20m by 2023.
To achieve this goal, it will use the cash to step-up its international sales, which currently account for around 40% of group revenues. The brand is available in 15 countries and it is stepping up its existing presence in the US to get into 1,000 retailers before Christmas and 5,000 by the end of next year.
It will also increase its marketing and distribution in the UK and Europe, where it is the market leading alkaline water brand.
"Alkaline water is a very developed category in the US, whereas in the rest of the world it's a niche category growing very quickly," said Douglas-Hamilton. "In five years' time alkaline water will be a mainstream concept, so it's an exciting place to be."
He said the alkaline water had sales of around US$880m in 2018, but that is forecast to exceed $4.3bn b 2023.
The brand has also seen a sales uplift during the coronavirus crisis, with group revenues doubling and exports up by around 300% in the period.
Actiph is likely to look to complete another fundraising round within the next 12-18 months to continue to fund its growth in existing markets and its push into the US.
"We always wanted to make Actiph more than just a water and into a wider lifestyle brand having been hugely inspired by what Red Bull have done," he said. "That's one of the reasons for doing the rowing expeditions, to inspire and energise others to lead that active and balanced life."