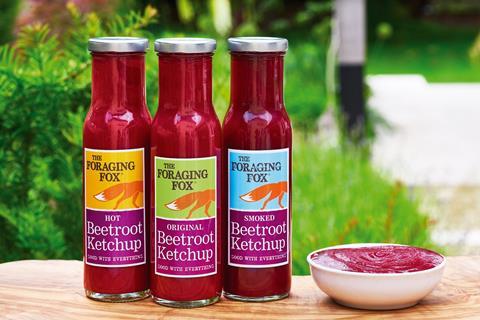 Beetroot ketchup manufacturer The Foraging Fox has secured almost £700k from angel investors to push forward with international listings.
Launched in 2015, the Essex-based start-up has expanded into North America and across Europe in the past 12 months and has secured the cash injection for working capital to satisfy new listings.
Fuelled by the fervour for non-GMO products, particularly in the US, the Foraging Fox has grown its export business to 30% of sales, and hopes to reach 40% in 2019.
Funding from the investment round will go towards recruitment and production in order to fulfil increased listings and NPD.
A new listing with German supermarket chain Edeka will start later this year, adding to listings for its range of three beetroot ketchups in 1250 UK retail stores, including Sainsbury's and Waitrose.
The brand is set to launch a new range of premium mayonnaises – coconut, chilli & lime mayo; avocado & lemon mayo; and smoked garlic mayo - at the start of September.
Last year mayonnaise overtook ketchup as the nation's favourite condiment after Brits splurged an extra £9.8m on mayo.
Later this year, it will also expand into food service with a new portfolio of products launched to target pubs, burger restaurants and first class lounges in the UK and Europe.
Revenue is expected to triple year-on-year, said Desiree Parker, co-founder of the supplier with Frankie Fox.
"The past year has been really focussed on building the international side of our business, and now we want to continue to expand that," commented Parker.
"In America and Europe there has been a big drive from consumers for non-GMO products, which has been important for us. We've also seen a huge rise veganism, in Germany for example, and that's something that has been recognised by retailers like Edeka, as well as the organic food stores and co-ops.
"The mayonnaise offering at the moment is quite homogeneous. People are not making it in different flavours and textures; it seems like a category that needs turning on its head soon. When we spoke to people, our investors saw our opportunity as a disruptor straight away."
The Foraging Fox has secured the backing of a "leading US CEO in the IT industry" as one of the angel investors involved. Previously the business has grown utilising government development grants.