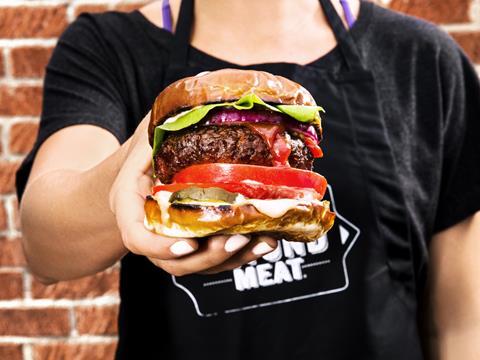 Plant-based protein poster child Beyond Meat is aiming for a stock market valuation of over a billion dollars after outlining plans to raise investor cash to underpin its global expansion ambitions.
The US-based "real feel" meat alternatives producer filed its listing prospectus with the US Securities & Exchange Commission this week, revealing it is aiming for a valuation of up to $1.2bn (£932m) when it lists its shares over the coming weeks.
The firm will list 8.75 million shares, approximately 15% of the company, on the NASDAQ stock exchange for between $19 and $21 a share.
The hefty valuation comes despite the firm continuing to post heavy losses in recent years.
The IPO filing shows it made a net loss of over $25m in each of the past three years, with losses of $29.9m in 2018.
However, investors would be buying into its growth story, with net revenues growing from $32.6m in 2017 to $87.9m in 2018 and on course to reach around £40m in the first quarter of 2019.
The vast majority of its sales are currently in North America, with international sales representing just 7% of total revenues last year.
But the company has plans to grow international sales "substantially" and secured its long-awaited first UK retail listings in Tesco in November.
The SEC filing adds that the firm has plans to "unlock additional capacity both domestically and internationally in 2019" and is pursuing a raft of hires, as well as investing in manufacturing infrastructure to support this growth.
"Instead of growing low-value commodity feed for animals, I see a future of farmers growing higher value protein crops for more direct human consumption via plant-based meat," wrote founder and CEO Ethan Brown in the regulatory filing.
"At our innovation centre, the Manhattan Beach Project, scientists and engineers are rapidly closing in on the differences between our plant-based meats and their animal protein equivalents. Certainly, gaps do and will remain for some time. However, having looked under the hood and through the microscope, we can say with confidence that we see no material obstacles to a perfect build of meat from plants."
Directly after the announcement of its listing it emerged that Tyson Foods, which bought a 5% stake in Beyond Meat in 2016 but now plans to launch a meat alternative product itself, had exited its investment.
Other investors since Beyond Meat's 2009 launch include private equity firm Kleiner Perkins as well as Bill Gates, former McDonald's CEO Don Thompson and actor Leonardo DiCaprio.