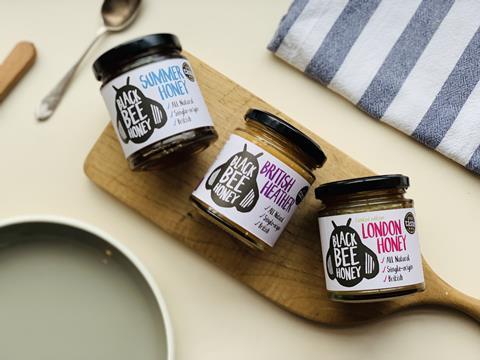 British raw honey producer Black Bee Honey has raised over £120k to underpin its growth ambitions, secure listings within the mainstream grocers and develop new product ranges.
The two-year-old business has hit its 100k target within a week of launching its second crowdfunding campaign on Crowdcube, with 292 investors so far rushing to grab a share of the 11.3% stake offered.
"We are quite overwhelmed really by how popular it [the fundraise] has been, the momentum of it has surpassed our expectations which has given us a lot of confidence in what we are doing," co-founder Paul Webb said.
Webb launched the company alongside business partner Chris Barnes in 2017, as the two beekeepers wanted the public to get to know the taste of raw British honey.
Despite being "satisfied" with the funds raised so far, the company is willing to overfund up to £150k to "kick-start other plans in the business".
Black Bee Honey plans to use the funds to double the amount of honey it sells, secure further listings and develop new seasonal ranges, as well as cover costs and investment in marketing.
"We are trying to develop new product range, we want to increase production and we want to look at export and hospitality," Webb added.
"The original raise was used to build brand awareness and launch the initial products, it got use to where we are at, but we have got a lot of plans that we need capital to achieve."
Black Bee's unblended three honey ranges are currently stocked in over 150 businesses including Ocado, Wholefoods, Amazon and Planet Organic.
The company is also holding talks with Sainsbury's and Morrisons as it looks to launch within two of the big four UK grocers and tap into an "under-served" market.
Webb explained: "There is a big opportunity in supermarkets because they offer a lot of 'value honeys'… and then you have got the other end of the spectrum with incredibly expensive Manuka honeys.
"There seemed to us there is a gap in the middle for good quality, single origin, unpasteurised honeys, so we are trying to target that area which currently isn't really being covered."
With Sainsbury's, Webb described the conversations held as "good", but added that, so far, no progress had been achieved beyond the commercial stage. Meanwhile, Black Bee Honey is waiting for a decision from Morrisons "any day", after recently meeting with the grocer's buyers.
International expansion, primarily in Europe, is also on the table, with the brand working alongside the Department for International Trade to "highlight" promising markets.
Prior to the fundraise, the company was valued at £786k. Black Bee Honey generated revenues of £184k and gross losses of £12k in its first financial year to the end of July 2018.
However, its founders are confident in the future with guidance seeing revenues up 250% to £643k and profits of £229k for the current year, ending July 2019.